Tatiana: An Arkady Renko Novel (The Arkady Renko Novels #8) (Hardcover)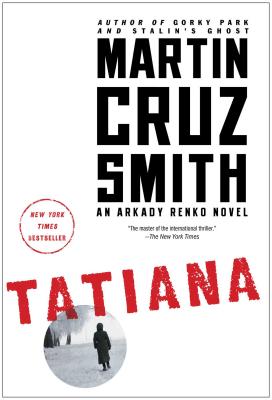 $25.99
Email or call for price
Other Books in Series
This is book number 8 in the The Arkady Renko Novels series.
November 2013 Indie Next List
---
"Cruz Smith's latest installment in the Arkady Renko series shows that he is in top form. Tatiana Petrovna, a daring reporter, has fallen - or was she pushed? - to her death. Renko starts investigating and is mesmerized by the reporter's latest tapes. Digging deeper, he finds a connection to the town of Kaliningrad, and what he discovers there is explosive. This is vintage Cruz Smith - a great read with twists and turns until the very end."
— Sue Richardson, Maine Coast Book Shop, Inc., Damariscotta, ME
Description
---
NEW YORK TIMES BESTSELLER

Arkady Renko, one of the iconic inves­tigators of contemporary fiction, has survived the cultural journey from the Soviet Union to the New Russia, only to find the nation as obsessed with secrecy and brutality as was the old Communist dictatorship. In Tatiana, the melancholy hero—cynical, analytical, and quietly subversive—unravels a mystery as complex and dangerous as modern Russia itself.

The fearless reporter Tatiana Petrovna falls to her death from a sixth-floor window in Moscow the same week that a mob billionaire, Grisha Grigo-renko, is shot and buried with the trappings due a lord. No one else makes the connection, but Arkady is transfixed by the tapes he discovers of Tatiana's voice describing horrific crimes in words that are at odds with the Kremlin's official versions.

The trail leads to Kaliningrad, a Cold War "secret city" that is separated by hundreds of miles from the rest of Russia. The more Arkady delves into Tatiana's past, the more she leads him into a surreal world of wandering sand dunes, abandoned chil­dren, and a notebook written in the personal code of a dead translator. Finally, in a lethal race to uncover what the translator knew, Arkady makes a startling discovery that draws him still deeper into Tatiana's past—and, paradoxically, into Russia's future, where bulletproof cars, poets, corruption of the Baltic Fleet, and a butcher for hire combine to give Kaliningrad the "distinction" of having the highest crime rate in Russia.

More than a mystery, Tatiana is Martin Cruz Smith's most ambitious and politically daring novel since Gorky Park. It is a story rich in character, black humor, and romance, with an insight that is the hallmark of a writer the New York Times has called "endlessly entertaining and deeply serious . . . [not merely] our best writer of suspense, but one of our best writers, period."
About the Author
---
Martin Cruz Smith's novels include Gorky Park, Stallion Gate, Nightwing, Polar Star, Stalin's Ghost, Rose, December 6, Tatiana, The Girl from Venice, and The Siberian Dilemma. He is a two-time winner of the Hammett Prize, a recipient of the Mystery Writers of America's Grand Master Award and Britain's Golden Dagger Award, and a winner of the Premio Piemonte Giallo Internazionale. He lives in California.
Praise For…
---
A New York Times Bestseller

"Smith is that uncommon phenomenon: a popular and well-regarded crime novelist who is also a writer of real distinction. . . . Based, in part, on Anna Politkovskaya, a Russian journalist and human rights activist . . . [Tatiana] is one of Smith's strongest . . . lending the narrative much of its moral and emotional substance. . . . Over the years, [Renko] has developed into one of the most appealing characters in crime fiction. . . . Perhaps most important, Tatiana showcases Smith's ability to convey the frustrating, frequently absurd nature of daily life in a fractured, tragic and traumatized country. Taken as a whole, the Arkady Renko series offers something unique in modern literature: an evolving vision of a complex society struggling, often futilely, to rise above the ruins of its own calamitous history."
— Washington Post

"It would be a treat to watch the evening news with Martin Cruz Smith's fabulist's eye and see current events colorized through Renko's dramatic filter. In Tatiana, Smith continues the tradition he began at the end of the Brezhnev era with Gorky Park, using Russia as his game board to make geopolitical conspiracy, well . . . fun. Tatiana ought to come with a decoder ring so readers who share the author's fondness for brainteasers can try to crack the translator's code on their own. Then again, struggling slowly from benighted dread into the glimmering dawn of fictional resolution is the reward of reading an Arkady Renko thriller. Figuring everything out too quickly would only spoil the game."
— Liesl Schillinger, The New York Times Book Review

"Masterful . . . Renko is one of the most compelling characters in modern fiction, sarcastic, quietly heroic, humble, depressive yet with a romantic's eye of a future that could be. . . . Smith's writing conveys irony, social commentary and wry humor."
— USA Today (3 1/2 out of 4 stars)

"With gallows humor and a soulful mortality, Smith has conjured another irresistible adventure for one of crime fiction's great detectives."
— People

"Exquisite . . . Darkly romantic . . . Tatiana is as tight, vivid, and haunting as any of the other installments in Smith's consistently first-rate series."
— San Francisco Chronicle

"With the recent death of the reigning master of the suspense novel, Elmore Leonard, to whom do we turn in the hopes of a masterly glide through dire straits in the dark side of life, with pitch-perfect dialogue, intriguing characters and a plot with punchy turns and a satisfying twist? My candidate would be California writer Martin Cruz Smith, creator of some two dozen works of popular fiction, whose series of novels starring the Russian police investigator Arkady Renko have been coming to us every now and then since Gorky Park first appeared in 1981. The latest is Tatiana, the eighth Renko novel and certainly one of the best."
— Alan Cheuse, The Dallas Morning News

"Absorbing . . . A gripping story with an ingenious twist and an interestingly complicated hero . . . Smith's Renko series stands out from the pack in several ways. For starters, Smith has a gift for creating sympathetic and believable characters that are miles ahead of the cardboard figures found in run-of-the-mill crime fiction. More profoundly, the books act as a kind of vivid timeline. We see, through both history and fiction, thirty years' worth of wrenching changes."
— The Seattle Times

"Riveting . . . Fast-paced . . . The characters are painted with nuanced brush strokes . . . Smith has nailed it for an absorbing read."
— Associated Press

"Smith is a master storyteller, delivering sharp dialogue, a tight plot, memorable descriptions and an understated hero in Arkady Renko. Anyone who enjoys crime novels but hasn't read Smith is in for a treat."
— Kirkus Reviews (starred review)

"Riveting . . . Smith spins a complex plot involving the Russian mafia, a teenage genius struggling to crack the code of Petrovna's notebook, and an excursion to Kaliningrad. . . . The most intriguing 'character' after Renko is contemporary Russia—freer than it was at the height of the cold war, but at least as corrupt and vastly more unequal—into which Smith offers many insights."
— Publishers Weekly (starred review)