Christian Theology: The Biblical Story and Our Faith (Hardcover)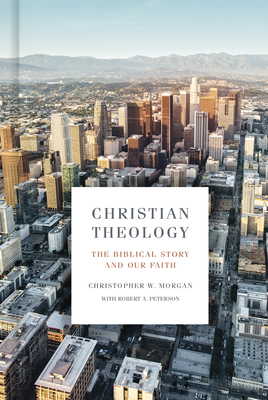 $49.99

Usually Ships in 1-5 Days
Description
---
In Christian Theology, author Christopher W. Morgan presents an accessible introduction to the core areas of systematic theology, including God, revelation, humanity, sin, Christ and his work, the church, and the future. Each chapter highlights Scripture's teaching on a topic as it unfolds in the Bible's story line, intentionally connecting readers to the doctrines with a focus on personal application and missional living. 

 
About the Author
---
Christopher W. Morgan (PhD, Mid-America Baptist Theological Seminary) serves as professor of theology and dean of the School of Christian Ministries at California Baptist University in Riverside, CA.

Robert A. Peterson (PhD, Drew University) es un teólogo sistemático y escritor. Fue profesor de teología por más de 35 años.


​Robert A. Peterson (PhD, Drew University) is a systematic theologian and writer and was a professor of theology for thirty-five years.
Praise For…
---
"Chris Morgan is one of this generation's most trusted theologians. His work at California Baptist is known to many and is deeply respected throughout the evangelical world. This new work, Christian Theology: The Biblical Story and Our Faith, is a welcomed addition to the field of Systematic Theology. This work will well serve seminary students, Christian college students, ministers of the gospel, and even lay persons desiring to dig into their faith more deeply. I highly recommend this book."
 —Jason K. Allen, president, and professor of preaching and pastoral ministry, Midwestern Baptist Theological Seminary
 
"Christian Theology is a stunning accomplishment, unrivaled in many ways by other systematic theologies. It is a biblically faithful, lucidly written systematic theology expounded with consistent reference to the Bible's dramatic narrative. A brilliant piece of work that will be used in classrooms and studies for years to come. Highly recommended."
 —Bruce Riley Ashford, dean of faculty, provost, and professor of theology and culture, Southeastern Baptist Theological Seminary
 
"How can I understand, explain, and live out my Christian faith? Christian Theology, by Christopher Morgan with Robert Peterson, wonderfully equips us to answer this question. This succinct and yet highly informed textbook is precise, practical, and a delight to read. No matter which is your denomination, tradition, or preferred school of thought—you will find unity, clarity, and perspective in this book."
 —Sam Chan, cultural analyst, author, and public speaker, City Bible Forum, Australia
 
"Christopher Morgan knows theology both past and present, and how to express it in engaging accessible ways. He is a master teacher as this volume of Christian theology shows. He covers the traditional topics and does so in ways that are biblically grounded, informed by the flow of redemptive history, aware of the Christian past, and with a sharp eye on the relevance of the Word of God to life today and life together. Indeed, the last chapter is on the Christian life. Would that all works of theology show his faithfulness, deftness, carefulness, and concern for connection with real life. Outstanding!"
 —Graham A. Cole, dean, and professor of biblical and systematic theology, Trinity Evangelical Divinity School
 
 "This important new work by Chris Morgan, written with Robert Peterson, is a splendid introductory theology textbook. Thoroughly biblical and orthodox, eminently readable, thoughtfully designed, and pastoral in its tone and approach, this volume will serve as a remarkable resource for college and seminary students. Each chapter seeks to bring clarity to areas that have often brought division to Christians. Readers will discover much in Christian Theology worthy of praise, including careful biblical exegesis, helpful biographical portraits, introductions to global thinkers, and thoughtful engagement at key points with the Christian tradition, always with an eye on the church. I gladly and heartily commend this excellent volume to Christian leaders, professors, students, and interested laypersons."
 —David S. Dockery, theologian-in-residence, Southwestern Baptist Theological Seminary, and president, International Alliance for Christian Education
 
"Christian Theology is a rare jewel among one volume systematic theologies—doctrinally coherent, biblically grounded, historically aware, and shaped by the grand narrative of Scripture. Add to that its accessibility to lay readers and college students, and this is a text that should be not only on every pastor's and professor's shelf but their first recommendation to students and congregants alike. Evangelical Christians, and particularly Baptists, will find this volume to be a one-stop shop for learning and training in systematic theology."
 —Matthew Y. Emerson, associate professor of religion, and director, Master of Arts, Hobbs College of Theology and Ministry, Oklahoma Baptist University
  
"There has long been the need for a mid-sized systematic theology written with both undergraduate and graduate students in mind, and Christian Theology: The Biblical Story and Our Faith fills that need and more. Morgan is a seasoned theologian and devoted churchman, which is reflected in the way he frames theology as an edifying discipline that is meant to aid the believer in spiritual maturity. The strong emphasis on biblical theology is very helpful, and the inclusion of quotes from Christian history and theologians from the global church is a welcome contribution. This book will not only be widely adopted in undergraduate courses, but it will be the go-to theology resource for pastors and other ministry leaders."
 —Nathan Finn, provost, and dean of the university faculty, North Greenville University
 
"This book tells a story—not just any story, but the true story of the one eternal God of holiness and love, his saving mission in Jesus Christ, and his still ongoing redemptive purpose. This is a primer of theology written with clarity, insight, and depth. I recommend it highly."
 —Timothy George, founding dean, and research professor of divinity, Beeson Divinity School, Samford University
 
"Christian Theology provides a straightforward introduction to the major doctrines of the Christian faith. Morgan does a masterful job of introducing basic theology in a robust way that manages to remain warm, personal, and accessible from start to finish. The book shows how each doctrine flows out of the biblical story line, explains its significance, and demonstrates its practical value for the Christian life. I highly recommend it as a textbook for general theology courses and an excellent resource for the church."
 —Jason S. Hiles, dean, College of Theology, Grand Canyon University
 
"This volume excels in explaining salvation in Christ as the heart of Christian doctrine. It rightly stresses the international scope of Christian confession by presenting global theological voices. College and seminary teachers will find it biblically orthodox and accessible to students."
 —Paul House, professor of divinity, Beeson Divinity School, Samford University
 
"The best systematic theologies grow in the rich soil of God's authoritative Word, keep the glorious gospel of the blessed triune God at the center, take shape in conversation with the Christian tradition, listen to voices of the past and (global) present, and clarify how theology is to be lived. Morgan has provided a wonderful work that both flows from decades of teaching students and possesses a humble and charitable tone that models Christian scholarship at its best. What a great gift this book is to the church—read and use it!"
 —Oren R. Martin, assistant professor of Christian theology, and program coordinator for the Seminary track, The Southern Baptist Theological Seminary
 
"Chris Morgan's systematic theology is concise, easy to understand, and edifying. He models how to do theology by rooting his conclusions in exegesis and biblical theology while considering historical theology and culminating in practical theology."
 —Andy Naselli, associate professor of systematic theology and New Testament, Bethlehem College & Seminary
 
 "As an introductory text, Christian Theology: The Biblical Story and Our Faith is a remarkable achievement. Morgan gives students of theology a concise, readable survey of the major doctrinal themes of Scripture, but the brevity of the material never takes away from its substance. The close attention given to the biblical narrative is a welcome departure from some works in this genre that never seem to find their hermeneutical footing. Students, professors, and pastors will be greatly pleased with this resource."
 —Rhyne Putman, associate professor of theology and culture, New Orleans Baptist Theological Seminary

"Morgan has composed a theology text that wonderfully captures the biblical narrative. This insightful theological guide is accessible, refreshingly evenhanded, and useful in a variety of learning environments. This text is truly a gift to the church."
 —Walter R. Strickland II, assistant professor of systematic and contextual theology, and associate vice president for diversity, Southeastern Baptist Theological Seminary
 
 "In Christian Theology, Chris Morgan draws from decades of study, teaching, and life as a disciple of Jesus, and offers a rich exploration of biblically grounded, historically informed, and practically helpful Christian doctrine. This book is refreshingly accessible yet edifyingly deep and would be helpful in undergraduate, graduate, or local church training. I hope that this book is widely read and highly influential because it will provide much needed theological ballast for the church in our day."   
 —Erik Thoennes, professor and chair of theology, Talbot School of Theology, Biola University, and pastor, Grace Evangelical Free Church of La Mirada
  
"Systematic theology often gets a bad rap for being speculative and divisive ('doctrine divides!'). Christian Theology dispels that caricature by grounding the system in the story of Scripture and by focusing on doctrines that unite Christians everywhere and at all times: "one Lord, one faith, one baptism" (Eph 4:5). Chris Morgan is an experienced teacher, logging hundreds of hours in college and seminary classrooms. It shows: the biblical storyline from creation to consummation frames his treatment of each doctrine, even as he shows how each doctrine facilitates readers' understanding of the biblical story. Each chapter includes practical objectives and other helps that contribute to the book's aim: to help believers grow in the knowledge and love of God and to live lives that serve God and others for their good and his glory."
 —Kevin J. Vanhoozer, research professor of systematic theology, Trinity Evangelical Divinity School
 
"In a day when the church desperately needs sound and faithful biblical and theological thinking that impacts our lives, there is no better place to start than Christian Theology. Written as a clear, accessible, and basic introduction to Christian theology this book admirably succeeds in its aim. Helping Christians think through the Bible's story line, working from biblical texts to theological conclusions, and always with the goal of knowing our glorious triune God in the face of our Lord Jesus Christ, this work will feed both mind and heart, and greatly help the church recover her calling to know and love God. I highly recommend this work for pastors, church leaders, and all Christians who want to think faithfully and deeply about God's Word and its application to their lives."
 —Stephen J. Wellum, professor of Christian theology, The Southern Baptist Theological Seminary
 
"Wonderful describes this book—wonderful in clarity, comprehensiveness, conciseness, and charity toward a full range of valid Christian views. It models an expositional theological method which highlights Scripture's teaching as it unfolds through the Bible's story line. This will become a go-to textbook for learning and living out true Christian faith."
 —Robert W. Yarbrough, professor of New Testament, Covenant Theological Seminary