Love All Men, Have Lunch with a Few: The Boys of Bunny's Restaurant: My Father's Story as a Japanese P.O.W. (Hardcover)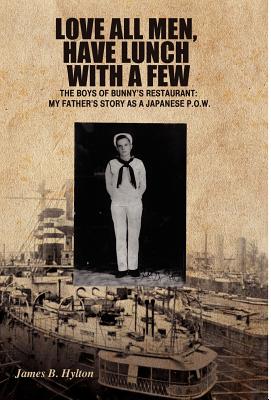 $27.95

Usually Ships in 1-5 Days
Description
---
An Inspiring Survival Against All Odds
For most of us, WWII is nothing more than history; we read about it, we understand its impact on the shape of the world, but it doesn't have personal significance.
This book will change that.
This is the story of an old-fashioned Southern gentleman, a compassionate and loving man, whose character was tested in ways few of us can even imagine. Raised as an orphan, he joined the U.S. Navy in a search for opportunity and stability in his life. He could not have guessed that he would spend three and a half years as a POW at the mercy of the Japanese, after the fall of Bataan and Corregidor. He was transported on the infamous "Hell Ships" to Sendai, Japan, where he worked in various prison camps as slave labor in lead and zinc mines. During his time as a POW, he was subjected to and a witness to atrocities and cruelties that would destroy most men. But instead, these incredible trials brought out the deepest strength: the will to survive, and a determination to embrace even the most unthinkable suffering, with the knowledge that it had something to teach him.
Framed with spiritual context that lends an even greater depth of meaning to this extraordinary man's experience, "Love All Men, Have Lunch With a Few" shows us, through the example of a humble, loving, and always-evolving man, the good that can come from even the bleakest circumstances.