Saving Sophie: A Novel (Liam Taggart and Catherine Lockhart #2) (CD-Audio)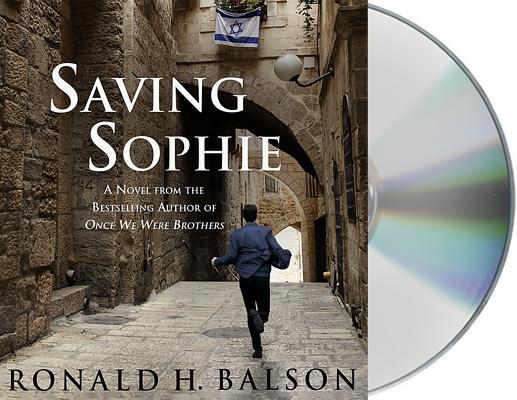 for information about purchasing this book, please contact orders@bookpassage.com
Description
---
From Ronald H. Balson, author of Once We Were Brothers, Saving Sophie is the powerful story of the lengths a father will go through to protect his daughter and an action-packed thriller that will take you on an unforgettable journey of murder and deception, testing the bonds of family and love.
Jack Sommers was just an ordinary accountant from Chicago-that is, until his wife passed away, his young daughter was kidnapped, and he became the main suspect in an $88 million dollar embezzlement case. Now Jack is on the run, hoping to avoid the feds long enough to rescue his daughter, Sophie, from her maternal grandfather, a suspected terrorist in Palestine.
With the help of investigative team Liam and Catherine, and a new CIA operative, a secret mission is launched to not only rescue Sophie but also to thwart a major terrorist attack in Hebron. But will being caught in the crossfires of the Palestine-Israeli conflict keep their team from accomplishing the task at hand, or can they overcome the odds and save countless lives, including their own?
About the Author
---
RONALD H. BALSON is an attorney, professor, and writer. His novel
The Girl From Berlin
won the National Jewish Book Award and was the Illinois Reading Council's adult fiction selection for their
Illinois Reads
program. He is also the author of
Eli's Promise, Karolina's Twins
,
The Trust, Saving Sophie
, and the international bestseller
Once We Were Brothers
. He has appeared on many television and radio programs and has lectured nationally and internationally on his writing. He lives in Chicago.
Fred Berman is a five-time winner of the AudioFile Earphone Award for Audiobook Narration and the recipient of the 2013 Audie Award for narration in Spy the Lie. He has read a number of audiobooks for young listeners, including Judy Blume's Soupy Saturdays with The Pain & The Great One and Andrew Clements's The Last Holiday Concert. He has also narrated the audiobooks for Robert Kirkman's popular series, The Walking Dead.
Berman is an accomplished actor of both the stage and screen as well, performing on Broadway as Timon in The Lion King and off-Broadway in Hamlet, Twelfth Night, and King Lear. On television, Berman has had roles on NBC's hit series Smash as well as All My Children and Law and Order. He lives in New York City.
Praise For…
---
"Balson succeeds in illuminating the personal side of the Middle Eastern conflict through his deeply human, psychologically credible characters." - Publishers Weekly