Fin & Lady: A Novel (CD-Audio)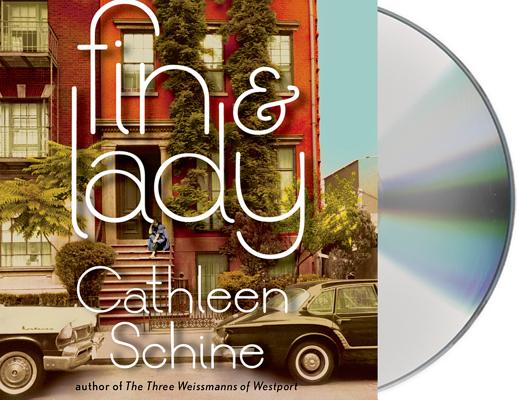 July 2013 Indie Next List
---
"Fin is a charmer. The bright eleven year old boy's life changes when his mother dies consigning him to the care of his older half-sister Lady. Fin leaves behind the bucolic Connecticut countryside and his mother's dairy farm with the sweet cows. Fin along with his loyal dog Gus head to New York City with Lady in her Gharmin Ghia, driving fast, Lady's only speed. Lady is a bright and shining creature, shy of commitment, full of boundless enthusiasms; she is way ahead of her time in 1964 and totally clueless as to how to raise a young boy. Fin's only prior exposure to Lady was six years earlier when Lady left her fiance standing at the alter and escaped to Capri. Their father followed to bring his erstwhile daughter back to the USA, accompanied by Fin and his mother. Fin was instantly smitten with this magical creature who could defy their formidable father. Lady might be older, but it soon becomes clear that Fin is the protector of his spirited sister, a woman beset by unsuitable suitors and prone to impetuous actions. A lot of history takes place over the course of the story; the Civil Rights Movement, the Vietnam War. Set in Greenwich Village New York and on mystical isle of Capri, the places become like characters too. This is a delightful story, a comic romp about the bonds between a brother and a sister."
— deon stonehouse, Sunriver Books, Sunriver, OR
Description
---
From the author of The Three Weissmanns of Westport, a wise, clever story of New York in the '60s

It's 1964. Eleven-year-old Fin and his glamorous, worldly, older half sister, Lady, have just been orphaned, and Lady, whom Fin hasn't seen in six years, is now his legal guardian and his only hope. That means Fin is uprooted from a small dairy farm in rural Connecticut to Greenwich Village, smack in the middle of the swinging '60s. He soon learns that Lady-giddy, careless, urgent, and obsessed with being free-is as much his responsibility as he is hers.
So begins Fin & Lady, the lively, spirited new novel by Cathleen Schine, the author of the bestselling The Three Weissmanns of Westport. Fin and Lady lead their lives against the background of the '60s, the civil rights movement, and the Vietnam War-Lady pursued by ardent, dogged suitors, Fin determined to protect his impulsive sister from them and from herself.
From a writer The New York Times has praised as "sparkling, crisp, clever, deft, hilarious, and deeply affecting," Fin & Lady is a comic, romantic love story: the story of a brother and sister who must form their own unconventional family in increasingly unconventional times.
About the Author
---
Cathleen Schine is the author of They May Not Mean To, But They Do, The Three Weissmanns of Westport, and The Love Letter, among other novels. She has contributed to The New Yorker, The New York Review of Books, The New York Times Magazine, and The New York Times Book Review. She lives in Los Angeles.

Anne Twomey is an accomplished actress of both stage and screen.  Her Broadway credits include Orpheus Descending, with Vanessa Redgrave, To Grandmother's House We Go, and Nuts, for which she received a Tony nomination and a Theatre World award.  Her many television appearances include guest roles on Seinfeld, Law & Order: Special Victims Unit, The Cosby Show, Spin City, and the Christopher Reeves' movie-of-the-week Rear Window.  She has also appeared in the films Picture Perfect and Orpheus Descending. Anne appears frequently on New York-based episodic TV such as Third Watch and Law & Order.  Anne's many audiobook credits include works by such authors as Dean Koontz, Joyce Carol Oates, Tracy Chevalier, and Barbara Ehrenreich.  She is married to actor John Bedford Lloyd, also an audiobook narrator.
Praise For…
---
"In this bildungsroman set against the swinging '60s, a young boy named Fin is orphaned and must move from his quiet Connecticut dairy farm to live with his much older half sister, Lady, in Greenwich Village, where things will never be the same for him." —The Los Angeles Times

"Cathleen Schine's witty, wry prose is well served by actress Anne Twomey, who deftly brings to life Ms. Schine's warmly affecting story of two souls searching for an identity in New York's Greenwich Village in the 1960s." —New York Journal of Books

"Narrator Twomey, who has a pleasing voice, deftly manages several European accents and reads at a quick pace that keeps the action moving along." —The Plain Dealer

"Anne Twomey narrates this unusual story of creating a family with soft tones and a hint of humor…Twomey's performance captures the story's complex emotions with a lilting voice and subtle inflections." —AudioFile Magazine

"Anne Twomey brings a thoughtful competence to the narration." —Library Journal