A Hundred Flowers (Compact Disc)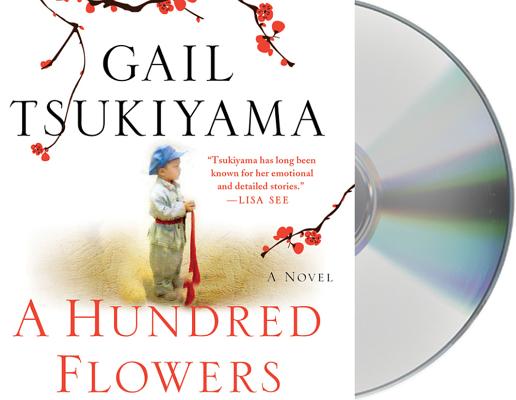 $29.99
Email or call for price
August 2012 Indie Next List
---
"The words of Chairman Mao, 'Let a hundred flowers bloom; let a hundred schools of thought contend' prove to be a trap for Sheng, a high school teacher who dares to speak out against the Communist Party. He is imprisoned, leaving his wife and young son to make their home with his father, a retired university professor. Sharing their story through alternating voices, Tsukiyama is a masterful craftsman and storyteller, and the reader is quickly caught up in the turmoil of the early days of the Cultural Revolution in China."
— Elizabeth Merritt, Titcomb's Bookshop, East Sandwich, MA
Description
---
A powerful new novel about an ordinary family facing extraordinary times at the start of the Chinese Cultural Revolution

China, 1957. Chairman Mao has declared a new openness in society: "Let a hundred flowers bloom; let a hundred schools of thought contend." Many intellectuals fear it is only a trick, and Kai Ying's husband, Sheng, a teacher, has promised not to jeopardize their safety or that of their young son, Tao. But one July morning, just before his sixth birthday, Tao watches helplessly as Sheng is dragged away for writing a letter criticizing the Communist Party and sent to a labor camp for "reeducation."
A year later, still missing his father desperately, Tao climbs to the top of the hundred-year-old kapok tree in front of their home, wanting to see the mountain peaks in the distance. But Tao slips and tumbles thirty feet to the courtyard below, badly breaking his leg.
As Kai Ying struggles to hold her small family together in the face of this shattering reminder of her husband's absence, other members of the household must face their own guilty secrets and strive to find peace in a world where the old sense of order is falling. Once again, Tsukiyama brings us a powerfully moving story of ordinary people facing extraordinary circumstances with grace and courage.
About the Author
---
Gail Tsukiyama is the bestselling author of six previous novels, including "The Street of a Thousand Blossoms, Women of the Silk "and "The Samurai's Garden, "as well as the recipient of the Academy of American Poets Award and the PEN Oakland/Josephine Miles Literary Award. She lives in El Cerrito, California.
Praise For…
---
"Tsukiyama's tale of love, loss, and courage is brought to life by Simon Vance. Narrating in a soft, straightforward tone, Vance is understated but renders the characters well. With only minor shifts in tone and dialect, Vance creates well-rounded and believable characters without even remotely attempting to tackle a Chinese accent. The result is brilliantly realized listening that will have listeners enthralled from start to finish." – Publishers Weekly, starred review
"The point of view alternates among three generations of individuals, and Vance meets the challenge by adjusting his pitch and tone to telegraph each change. The character-driven novel is enhanced by Vance's insightful pacing and restrained use of drama." – Audiofile Magazine
"This brilliant portrayal of a family torn half apart and mending like the kapok tree that Tao falls from is brought to life by the familiar voice of Simon Vance…He brings Sheng's family to life with his warm and inviting voice. Tsukiyama's story and Vance's voice make for a delightful journey into the early years of Communist China, when the promise of a better China never seemed so bleak." – New World Review
--------------------------
Praise for the print edition of A HUNDRED FLOWERS:
 "I was following this family almost as though it were my own and stayed all the way to the end of their story." —All Things Considered, NPR

"The tenderness [Tsukiyama] shows for her characters creates a sympathetic portrait of intellectuals trying to live honestly in the shadow of oppression." —Publishers Weekly

"Tsukiyama's close attention to detail and descriptive language paint a vivid picture of the daily life of Kai Ying and her family. Tsukiyama gently envelops the reader into the quiet sadness that permeates the entire household while weaving in the multiple hardships the family faces under communism. Strength of community; support and love of family, both natural and adopted; and the ability to heal and overcome loss are major themes within the moving novel." —Booklist

"Best-selling author Gail Tsukiyama, recipient of PEN Oakland/Josephine Miles Literary Award, takes us back to those times not by painting a panorama but in her thoughtful and forthright way by showing the consequences for one family." —Library Journal