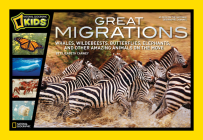 $17.95
Usually Ships in 1-5 Days
Description
---
Great herds of zebra thundering across the African plain...fragile butterflies traveling unbelievable distances...family groups of whales coursing through the waves. Many kinds of animals make annual migrations, and their stories reveal incredible strength and will to survive. These treks are magnificently documented in Great Migrations, the children's illustrated companion to the upcoming 7-hour National Geographic television special of the same name.
Created for the huge audience of young animal lovers--and for the nation's schools, where migration is taught as part of the core curriculum--this book spotlights wild creatures of highest interest to children. Action-filled photo spreads deliver immense "wow" appeal as animals vault over obstacles and escape the clutches of predators. Info-graphic spreads pack in the fascinating facts, with at-a-glance information on where, why, and how animals migrate.
Throughout the coverage, this timely book addresses the effect of climate change on animal migration--a story that is just now reaching the public, from scientists and other experts who have witnessed alarming trends.
About the Author
---
Elizabeth Carney is a writer and editor based in Brooklyn, New York. She specializes in nonfiction children's books and science, math, and STEM-related magazines. Her author credits include Everything Big Cats; Everything Dolphins; Great Migrations: Whales, Wildebeests, Butterflies, Elephants, and Other Amazing Animals on the Move; and several titles in the National Geographic Face to Face and Readers series.
Praise For…
---
"In the official companion to the fall TV special, zebras throng the East African plains, sharks slice through the waters off Baja California, and king penguins totter across islands of the Southern Ocean. The photos are rendered in instantly recognizable National Geographic style, vivid and clear." –EW.com (Entertainment Weekly)
 
"Great Migrations tackles everything from ants to elephants, and even sea life—including Earth's largest fish, the whale shark. The movement and images of all of these creatures is no less than breathtaking, and writer K.M. Kostyal brings all of the images into perspective with excellent accompanying text." –BookPage
 
"Brings nature to life with a visual and emotional wallop…a wondrous new jaw-dropper… movingly beautiful…" –The Washington Post
 
"…details, with amazing photos, the astonishing distances covered and dangers faced by creatures ranging from monarch butterflies to sperm whales." –San Antonio Express-News
 
"Author K. M. Kostyal keys on the internal and external forces behind these journeys, which sometimes sends two species into a choreographed collision." –Access Atlanta