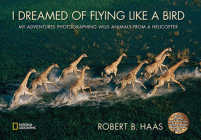 Description
---
Climb aboard a helicopter with National Geographic photographer Robert Haas and journey all over the world in search of wild animals and exotic places. Cruise over the savanna grasslands of Africa and watch from above as lions hunt buffalos, one of the few "fair fights" in the African wilderness. Enjoy the spectacle as brilliant pink flamingos run faster and faster along the surface of the water before taking off and landing to form the perfect shape of a huge flamingo. Track muddy footprints across a rain-drenched salt pan to find a lone wildebeest that joins a herd of zebras. Even catch a glimpse of a large group of sharks that glide silently through shallow water in search of their next meal.
I Dreamed of Flying Like a Bird takes readers across the globe, from the marshlands of Botswana to the frigid waters of Greenland to the jungles of Brazil. Haas's stunning color photographs bring to life the awesome beauty and pulsating action of nature's wildest creatures and the thrill of capturing the perfect image from the air. The author's dream of flying like a bird provides the perfect vantage point for witnessing unusual drama and adventures from a bird's eye view. This book is a gorgeous, thrilling experience for adventurers of all ages.
About the Author
---
Robert B. Haas came to photography as a second career, inspired by his experiences observing wildlife over the course of many safaris. In the years since devoting himself to his art, he has published several books on wildlife, including the children's book African Critters. His photographs have appeared in major exhibits around the world, and his work has been featured in the pages of National Geographic magazine, Time, Forbes, and numerous other publications. Haas donates all the royalties from his photographic work to nonprofit foundations and wildlife conservation organizations and has been recognized by the WILD Foundation and the United Nations Environment Programme for his contributions on behalf of endangered species and the environment. He is the chairman of the board of Haas Wheat & Partners, a Dallas-based private investment firm. A graduate of Yale University and Harvard Law School, he has endowed professorships and has been a frequent lecturer at both institutions. Haas lives in Dallas, Texas, with his wife and six dogs.