Ultimate Journeys for Two: Extraordinary Destinations on Every Continent (Paperback)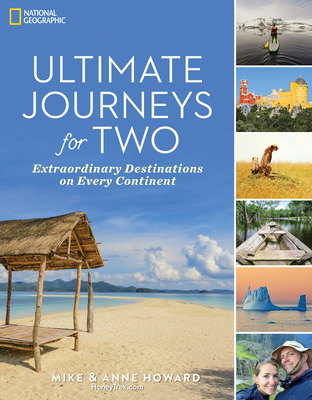 $26.99

Usually Ships in 1-5 Days
Description
---
Written by the founders of HoneyTrek.com, this inspiring book reveals hidden-gem destinations and insider tips for unforgettable couples travel.

In these informative pages, Mike and Anne Howard—officially the World's Longest Honeymooners and founders of the acclaimed travel blog HoneyTrek—whisk you away to journeys of a lifetime. Drawing on their experience traveling together across seven continents, they curate the globe and offer tested-and-approved recommendations for intrepid couples, bringing culture, adventure, and romance to any couple--no matter their age or budget.

Chapters are organized by type of destination (for example, beaches, mountains, and deserts) to help travelers discover new places and experiences based on their interests. Each entry focuses on a specific region, getting to the essence of each locale and its one-of-a-kind offerings. The authors reveal the best time to visit, the best places to stay, and recommended activities—each with their own adventure rating to illustrate level of intensity. Special features include funny and insightful stories from the Howards' own adventures, expert advice from other renowned traveling couples, and tips to increase the romance and excitement at each destination. A large map shows every location covered in the book, and each entry has a locator map depicting the city and country. Both entertaining and informative, this book is an invaluable resource and inspiration for a lifetime of travel.
About the Author
---
MIKE AND ANNE HOWARD left for their honeymoon in January 2012 and have been exploring the globe ever since on what has become the World's Longest Honeymoon. Using Anne's background as a national magazine editor and Mike's as a digital marketing executive and photographer, they created HoneyTrek.com to chronicle their journey across 50+ countries and share tips with fellow couples looking to make their own travel dreams a reality. Having reviewed over 150 luxury hotels and excursions across all seven continents, they know the five-star side of travel, but also know how to get to the heart of local culture. The Howards' remarkable journey has been acclaimed by Condé Nast Traveler, Los Angeles Times, Brides, CBS, and Microsoft, where the Howards starred in their global TV commercial. Their travel advice has been the subject of feature articles in U.S. News and World Report, Martha Stewart Weddings, Washington Post, and Lonely Planet. Firm believers that love and travel make the world a better place, they continue to spread this message and their know-how as Smithsonian speakers and National Geographic authors.
Praise For…
---
"Mike and Anne Howard took their honeymoon on the road, threw in a sense of adventure and learned to travel cheaply in trips to seven continents over five years. They blogged about being the "world's longest honeymooners" at HoneyTrek.com and wrote a book… featuring 75 destinations and travel advice. And they recently launched a travel agency, HoneyTrek Trips , to help others experience destinations from the book and other places in what they call "HoneyTrek style" -- a mix of "local and luxury with a dash of travel hacking." –AP
 
"Covering 75 destinations — from ice-climbing in Patagonia to attending a mask festival in China, this lively, engaging travelogue is pumped with invigorating ideas and advice galore. " --Forbes.com 

"Read this book before you book your next travel adventure with your beau! Anne and Mike Howard made sure to create a product that highlighted the uniqueness of each excursion...the pair found a way to curate their exceptional journey into a 272-page tale of pure exploration." --InStyle Magazine

"You've been so great to actually document everything and compartmentalize it. So depending on what your budget is, if you want those hidden romantic spots, or if you're a foodie--you've got it all contained in this book...keep inspiring us!"--Dina Pugliese, host of Breakfast Television.

"They share the destinations that just might be the cure for what ails your romance."
--The Globe and Mail newspaper

"Ultimate Journeys for Two inspires and teaches even seasoned travelers to discover new places and experiences."--Johnny Jet, Founder of JohnnyJet.com

"Travel books to inspire trips or give as gifts." –AP

"A travel book to drop hints for your next vacay." –Buzzfeed 

"National Geographic authors of the new couples travel book…left on their own honeymoon in January 2012 and have been globe-trotting ever since." –Brides.com

"Here are 10 of the most glorious journeys you can take with a buddy or SO." –Men's Fitness

 "Embark on a dreamy escape to a nearby or far-flung hot spot across the globe." –U.S. News & World Report