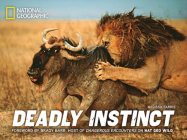 Description
---
Ready for an unflinching foray into some of the most brutal moments Mother Nature has to offer? Feast your gaze on"DeadlyInstinct, "an action-packed exploration of the toothier side of nature, magnificently illustrated with award-winning wildlife photos drawn from the National Geographic Image Collection. This eye-popping chronicle is a visceral testament to the will of every creature to survive.
Astonishing multi-image sequences capture life-or-death encounters, move by heart-pounding move. A leopard seal snatches and dispatches a penguin in a grisly underwater drama. Steller's sea eagles wage an angry battle over a single precious fish. Cheetahs team up to take down an antelope in an unusual and rarely documented way. And a giant pill millipede rolls itself into a protective, armored ball to escape predation. You ll marvel at the intriguing techniques used by would-be prey to outsmart their attackers and discover why learning to play rough is a vital skill for many young creatures.
Tantalizing chapters with themes like Landscapes of Fear, Displays of Aggression, The Struggle for Life, and The Priorityof Play reveal fascinating insights on wildlife behavior and offer interviews with expert wildlife photographers. National Geographic luminaries such as Joel Sartore, Chris Johns, Brian Skerry, Melissa Farlow, Darlyne Murawski, and Norbert Rosing share captivating personal accounts of their most exhilarating wildlife shoots, their work in the field, and their passion for their subjects. To create this stunning collection, the photographers called on their well-honed skills, field-tested courage, and high-tech camera equipment. The result is a visual thriller of near-cinematic beauty, a mesmerizing life-and-death drama, and a showcase of the world's most incredible animals, as you ve never seen them before.
Praise For…
---
"A highly visual display of the predatorial side of the natural world and the universal will to survive. Filled with hundreds of dynamic color photographs, the book offers wildlife enthusiasts fascinating information…beautifully presented in striking images."–Book News, Inc.

"With stunning shots of sharks, lions, snakes, hyenas, bears and crocodiles, the book reverberates with the beat of the hunger and the hunted." –Daily Mail on Sunday 

"Feast your eyes on Deadly Instinct, an action-packed exploration of some of Mother Nature's most brutal moments, magnificently illustrated with award-winning wildlife photographs from the National Geographic image collection." –Real Travel Magazine 

"Showcasing extraordinary photography of predators and their prey, the book gives a breathtaking look at matters of life and death in the animal kingdom. In addition to the images, there are candid interviews with the renowned wildlife photographers who took them along with current information on the field of wildlife science."  –Outdoor Photographer