Barn Quilts: Inspirational Adult Coloring Book (Majestic Expressions) (Paperback)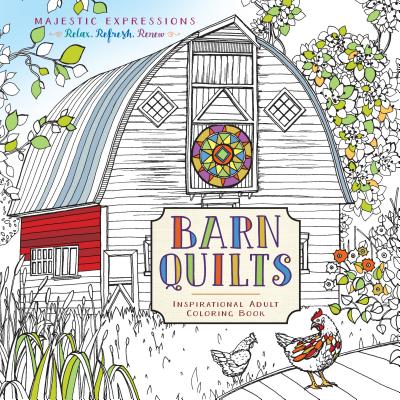 $12.99

Usually Ships in 1-5 Days
Description
---
Relax. Refresh. Renew.
Life is full of demands. Appointments, deadlines, obligations, and constant digital chatter occupy every moment and build a mountain of unhealthy stress and tension. Research shows that coloring can be an effective stress reducer, but true rest and peace are found in God. Inspirational adult coloring books by Majestic Expressions incorporate these two ideas in one beautifully illustrated book.
Inspired by the Barn Quilt popularity and many Barn Quilt Trails surfacing around the US, this coloring book features barn quilt patterns and pictures for you to color. It also includes Scriptures about the beauty of the earth, bounty, harvest, hard work, early morning, and creation. Color your own barn quilt and watch each picture come alive as you allow your creativity to flow freely, filling the intricate images with the beauty of color. SPECIAL FEATURES:
- 55 inspiring illustrations
- encouraging Scriptures
- high quality, acid-free coloring paper
About the Author
---
MARIAN PARSONS, aka Miss Mustard Seed. is a pastor's wife, mother of two boys and a lover of all things home. She is a business owner, though she has never thought of herself as an entrepreneur. She is a self-taught designer and full-out amateur photographer. She is also a writer who totally abuses commas and relies heavily on spell check. Despite all of those things, here she is. A business that was started in the hopes of contributing to the family income has grown beyond anything she ever imagined or hoped for. She is now passionate about sharing what she has learned in the hopes of encouraging others.