Leading Change: Why Transformation Efforts Fail (Paperback)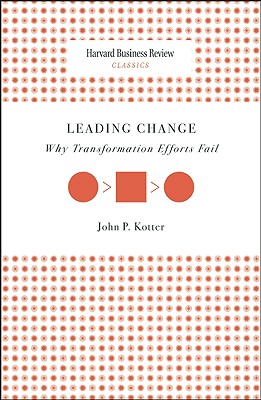 $8.95
Email or call for price
Description
---
Businesses hoping to survive over the long term will have to remake themselves into better competitors at least once along the way. A few of these endeavors have been very successful. A few have been utter failures. Most fall somewhere in between, with a distinct tilt toward the lower end of the scale.

John P. Kotter is renowned for his work on leading organizational change. In 1995, when this article was first published, he had just completed a 10-year study of more than 100 companies that attempted such a transformation. In this classic article, he shares the results of his observations, outlining the eight largest errors that can doom these efforts and explaining the critical lessons that make for successful change in your organization.
About the Author
---
John P. Kotter, Konosuke Matsushita Professor of Leadership, Emeritus at Harvard Business School, is widely regarded as the world's foremost authority on leadership and change. His has been the premier voice on how the best organizations actually "do" change.

John Kotter's international bestseller, Leading Change--which outlined an actionable, 8-step process for implementing successful transformations?became the change bible for managers around the world. In October 2001, Business Week magazine rated Kotter the #1 "leadership guru" in America based on a survey they conducted of 504 enterprises.

His newest work, the New York Times bestselling Our Iceberg Is Melting, puts the 8-step process within an allegory, making it accessible to the broad range of people needed to effect major organizational transformations.