Dragon Ball Z (VIZBIG Edition), Vol. 1 (Dragon Ball Z VIZBIG Edition #1) (Paperback)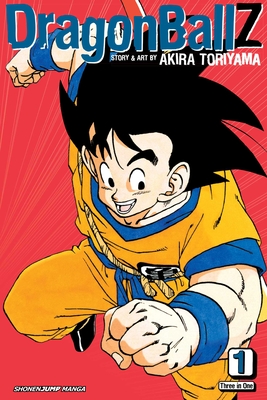 Other Books in Series
This is book number 1 in the Dragon Ball Z VIZBIG Edition series.
Description
---
Change your perspective: get BIG

After years of training and adventure, Goku has become Earth's ultimate warrior. And his son, Gohan, shows even greater promise. But the stakes are increasing as even deadlier enemies threaten the planet. DRAGON BALL Z is the ultimate science fiction/martial arts manga.

A Collection of Volumes 1 - 3!

Five years have passed since the Tenka'ichi Budōkai (Strongest Under the Heavens) fighting tournament, where Son Goku emerged as Earth's ultimate champion. Goku has since settled down with a wife and even has a son, Son Gohan. All seems peaceful, until one day when a mysterious visitor appears and reveals that Goku is actually an alien!

The visitor, Raditz, claims that Goku is a Saiyan Warrior, a member of the most powerful race in the universe. When the ruthless Raditz threatens to destroy Goku's family and the entire human race, Goku races to stop him and finds an unlikely ally in Piccolo, his old archenemy...
About the Author
---
Renowned worldwide for his playful, innovative storytelling and humorous, distinctive art style, Akira Toriyama burst onto the manga scene in 1980 with the wildly popular Dr. Slump. His hit series Dragon Ball (published in the U.S. as Dragon Ball and Dragon Ball Z) ran from 1984 to 1995 in Shueisha's Weekly Shonen Jump magazine. He is also known for his design work on video games such as Dragon Quest, Chrono Trigger, Tobal No. 1, and Blue Dragon. His recent manga works include COWA!, Kajika, Sand Land, Neko Majin, and a children's book, Toccio the Angel. He lives with his family in Japan.