Sparrow: A Novel (Hardcover)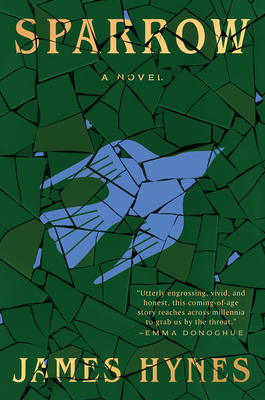 Description
---
INTERNATIONAL BESTSELLER

Told from the perspective of an enslaved boy being raised in a Roman brothel, a stunning literary historical novel of identity, family, suffering, and freedom

In a brothel on the Spanish coast during the waning years of the Roman Empire, a young enslaved boy of unknown parentage is growing up. His world is a kitchen, then an herb-scented garden, followed by a loud and dangerous tavern, and finally, the mysterious upstairs where the "wolves" do their business.

The wolves, named after the muses and coming from across the vast empire, are Sparrow's surrogate family. They are his mothers and his sisters, his guides in a rough life, his solace from it. When he is not being told stories by his beloved Euterpe, he runs errands for her lover, the cook, while trying to avoid the blows of their brutal overseer or the machinations of the chief wolf, Melpomene. But a hard fate awaits Sparrow, one that involves suffering, murder, mayhem, and the scattering of the little community that has been his whole world.

Through meticulous research and bold imagination, James Hynes brings the entirety of a Roman city to vivid life, recreating old Pagan Rome as its codes and morals give way before the new religion of Christianity, and introduces readers to one of the most powerfully affecting and memorable characters of recent fiction. Sparrow is an enthralling, heartbreaking novel of identity, endurance, and love in a dangerous and changing time.
About the Author
---
James Hynes is the author of Next, The Lecturer's Tale, and Publish and Perish. His essays and reviews have appeared in the New York Times, the Washington Post, Boston Review, Mother Jones, and Salon. He attended the Iowa Writers' Workshop and has taught fiction writing at the University of Iowa, the University of Michigan, Miami University, Grinnell College, and the University of Texas. He lives in Austin, Texas.
Praise For…
---
"A vivid portrait of a literal empire of pain."
—Kirkus

"Sparrow is a stunning work of historical imagination. The story of a young man making his name in the dying days of the Roman empire, Sparrow is masterful in its portrayal of love, sex and friendship."

—The Observer

"Hynes renders this hidden world so powerfully and vividly."—The Times (UK)

"A secret history that teems with the brutality, sensuality, and frailty of life in a decaying empire."—Sydney Morning Herald

"Sparrow's voice is original and moving and the grueling work of the brothel becomes absolutely real. The wolves and their shifting relationships—by turns tender, competitive and bullying—are beautifully portrayed."—The Guardian

"A bleak and brutal story, vividly told by Hynes, who has created a truly unforgettable character in the resilient Sparrow."—Daily Mail (UK)

"This book is powerfully told and deeply felt, but not for prudish readers."
—Historical Novels Review