The Rooster House: My Ukrainian Family Story, A Memoir (Hardcover)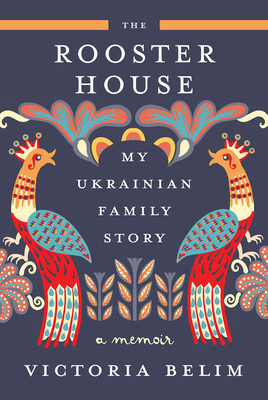 $28.00

Coming Soon - Available for Pre-Order Now
Description
---
A timely and deeply moving memoir of the author's Ukrainian family history, interwoven with the country's tumultuous story

In 2014, the landmarks of Victoria Belim's personal geography were plunged into tumult at the hands of Russia. Her hometown Kyiv was gripped by protests and violent suppression. Crimea, where she'd once been sent to school to avoid radiation from the nuclear disaster at Chernobyl, was invaded. Kharkiv, where her grandmother Valentina studied economics and fell in love; Donetsk, where her father once worked; and Mariupol, where she and her mother bought a cherry tree for Valentina's garden all became battlegrounds.

A naturalized American citizen then living in Brussels, Belim felt she had to go back. She had to spend time with her aging grandmother and her cousin Dima. She had to unravel a family mystery spanning several generations. And she needed to understand how her country's tragic history of communist revolution, civil war, famine, world war, totalitarianism, and fraught independence had changed the course of their lives.

The Rooster House is a beautifully written memoir of a family, a country's past, and its dangerous present. It is about parents and children, true believers and victims, gardens and art, secrets and tragedy. Compulsively readable, deeply moving, and at times laugh-out-loud funny, it is a stunning debut book by an experienced, expressive, and gifted writer.
About the Author
---
Born in Ukraine, Victoria Belim grew up in Chicago and now lives in Brussels, Belgium. A writer, journalist, translator, and fragrance specialist, Belim speaks 18 languages. Since 2010, she has been writing for the Financial Times's How to Spend It magazine. Her work has also appeared in the New York Times Magazine, Elle, and Marie Claire, as well as on her own website, boisdejasmin.com.
Praise For…
---
"The Rooster House is so many things at once, and all of them pull at my heart. The book is a seriously beautiful evocation of an imperiled nation and an account of a personal quest to retrieve the memories and secrets that families and states maintain. It's a careful meditation on exile, on return and belonging, and what it means to be. And most of all it's a paean to hope and home, written with such gentleness and deep adherence to emotional truth that to me its words become a fierceness to cast against harm, hardship and hurt. I loved it and it will haunt me for a long time."
— Helen Macdonald, author of H is for Hawk and Vesper Flights

"[A] poignant, gently unfolding . . . elegant family narrative of myriad characters traumatized by the deep-seated Russia-Ukrainian struggle. . . Throughout this powerful text, readers will encounter numerous satisfying layers."

— Kirkus, *starred review*

"Victoria Belim's poignant memoir, unveils the Ukrainian roots of a family mystery. . . Belim's book, and her work with Ukrainian refugees in Brussels, honors Ukraine's vibrant culture and the resilience of its people. . . The Rooster House is an intimate, down-to-earth memoir that reveals the corrosive effects of secrets and the healing power of truth."

— Foreword Reviews, *starred* review