Slow Down and Be Here Now: More Nature Stories to Make You Stop, Look, and Be Amazed by the Tiniest Things (Hardcover)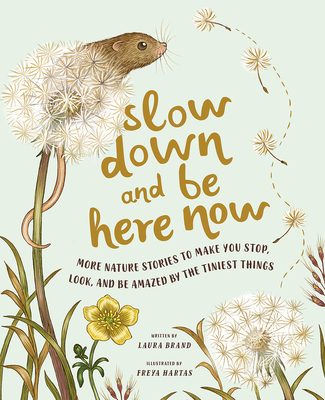 Description
---
Bestselling author Laura Brand and illustrator Freya Hartas's Slow Down and Be Here Now invites you to enjoy the present moment with everyday nature that makes you stop, watch, and be amazed by the tiniest things.

Twenty stories with beautiful full-color illustrations inspire children to slow down and take a look at the world around them. Zoom in to observe a hummingbird drinking nectar or a pea shoot appear. Delight in a little snail as he comes come out to drink. Charming text paired with real science invite you to observe nature up close. Let it stop you in your tracks, so that you can truly find joy in the present moment. Each story features a tiny nature moment to treasure, with facts and figures on animals, plants, weather, and more, making this the perfect book for young nature lovers.

The Slow Down series encourages kids (and their grown-ups!) to take the time to stop and experience mindful moments in nature.
About the Author
---
Laura Brand is the author of the Sunday Times bestseller The Joy Journal and shares her crafty experiments and creative ideas for everyday play on her platform (also called The Joy Journal). She lives in the English countryside. Slow Down and Be Here Now is her first book for children.
Freya Hartas is a United Kingdom–based illustrator specializing in children's books. She lives in the vibrant city of Bristol with her partner and their ancient black cat, Katsu, and works from her cozy, cluttered desk in a shared studio down the road. She graduated from Falmouth University with a bachelor of arts in illustration with first-class honors in 2014. Hartas loves to conjure up humorous characters, animals, and monsters, creating the most fantastical worlds for them to inhabit and get lost in. Her first title with Magic Cat, Slow Down, was an instant hit around the world, selling in more than 20 languages.