Daughters of Smoke and Fire: A Novel (Hardcover)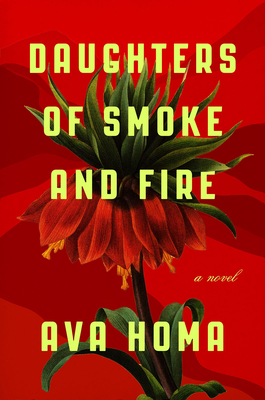 Staff Reviews
---
There are important books that awaken us to the trials and humanity of people far from our shores, the stories of which we have previously been unaware. Daughters of Smoke and Fire is such a book. Leila and her brother Chia are Kurds, growing up in Iran where their existence is cause for suspicion and harassment. Their angry mother and beaten father cannot protect them from the brutality of their daily lives. Luckily there are friends and strangers who heroically show kindness or inspire hope. As her brother grows increasingly political, Leila questions her role in this society that often condemns her for being a woman. She begins to find answers once it becomes clear she must be the voice for those who are now voiceless. Ava Homa's beautiful storytelling is a testament to the power of such a voice. —Luisa
— From
Elaine and Luisa's Picks: Spring 2020
Description
---
"A story of slowly-building self-liberation and resilience. . . . Our conversations around this book are going to be meaningful, engaging and urgently necessary." —Roxane Gay

The unforgettable, haunting story of a young woman's perilous fight for freedom and justice for her brother, the first novel published in English by a female Kurdish writer

Set in Iran, this extraordinary debut novel takes readers into the everyday lives of the Kurds. Leila dreams of making films to bring the suppressed stories of her people onto the global stage, but obstacles keep piling up. Leila's younger brother Chia, influenced by their father's past torture, imprisonment, and his deep-seated desire for justice, begins to engage with social and political affairs. But his activism grows increasingly risky and one day he disappears in Tehran. Seeking answers about her brother's whereabouts, Leila fears the worst and begins a campaign to save him. But when she publishes Chia's writings online, she finds herself in grave danger as well.
Daughters of Smoke and Fire is an evocative portrait of the lives and stakes faced by 40 million stateless Kurds and a powerful story that brilliantly illuminates the meaning of identity and the complex bonds of family, perfect for fans of Khaled Hosseini's The Kite Runner and Chimamanda Ngozi Adichie's Half of a Yellow Sun.
About the Author
---
Ava Homa is a writer, journalist, and activist specializing in women's issues and Middle Eastern affairs. She holds an MA in English and creative writing from the University of Windsor in Canada. Her collection of short stories, Echoes from the Other Land, was longlisted for the Frank O'Connor International Short Story Award, and she is the inaugural recipient of the PEN Canada–Humber College Writers-in-Exile Scholarship. She was born and raised in the Kurdistan province in Iran and now divides her time between Toronto and the Bay Area.
Praise For…
---
"At a time when the Kurds are so much in the news in Iraq and Syria, the Iranian government has erected a wall of silence around its own much larger Kurdish population. This magnificent novel penetrates that wall with its story of coming of age, oppression, and death. Beautifully written, it is the best new work of fiction to emerge from the Near East in a long time."
— Ambassador Peter W. Galbraith

"There is no more urgent a task for humanity than more fully knowing one another. . . . This desperate gift is what comes our way from Ava Homa, a brave and brilliant storyteller, the first female Kurdish novelist writing in English who shows us, through one family's story, the stakes faced by the Kurds. Read this book. Raise your voice. We can no longer afford the 'us and them' mentality if we are to survive."
— Joy Kogawa

"Gripping . . . Daughters of Smoke and Fire is a haunting piece of political fiction and a gut-punch tale of an alienated Kurdish girl swimming upstream against a tide of sexism and ethnic hatred. The scars Homa bears as a Kurdish feminist reared under Iranian rule and living now in the 'cruelty of exile' are evident on every page."
— Kevin McKiernan

"A coming-of-age story that layers intergenerational trauma and political commentary on a decades-long epic. . . . Homa's portrait of Kurdish life in Iran brings readers closer to lived experiences that force questions of identity, homeland, and the traumas we inherit."
— Booklist

"Daughters of Smoke and Fire is a compelling narrative of consciousness and empowerment that skillfully intertwines the personal and political, joining a story of suffering and trauma with one of love and desire. The novel is striking and original in its refusal to romanticize life under oppression. It is a story of visible and invisible scarring, of violence and suffering transmitted across generations, of gender oppression and political exclusion and silencing, but it is also a moving and timely novel of hope and transformation, and of self-liberation."
— Professor Abbas Vali

"Daughters of Smoke and Fire is a riveting story of a family that unlocks our imagination to the struggle of being and living as Kurds. An absorbing fiction with social and political insights into Kurdish identity, politics, and women's lives. The audacious character, Leila, is memorable for her struggle to survive and to stay free. Ava Homa in fiction echoes the real dreams and desires of Kurdish women for freedom."
— Dr. Shahrzad Mojab

"While this book is about a Kurdish family in Iran, the story could be about any minority living under the rule of an oppressive majority demanding their assimilation. Homa has created a story that's both personal and universal in its scope. Daughters of Smoke and Fire might break your heart, but it's also a book of sublime beauty that will engrave itself into your memory for years to come."
— Seattle Post Intelligencer

"Stark and elucidating . . . Through the courageous character of Leila, Homa paints a picture of many Kurdish women who have struggled against persecution and misogyny. . . . Homa's remarkable novel serves as a potent and illuminating window into the persecution of the Kurds."
— BookPage

"Daughters of Smoke and Fire not only provides us with a voice that we have been missing, but it serves as a great equalizer of humanity and is a call to action to expose the oppression, persecution, and prejudices that are still very much alive and neglected in today's world of globalization."
— Hamilton Review of Books

"More than a novel, Daughters of Smoke and Fire is an evocative and brutally honest chronicle of the problems that thwart the lives of 40 million stateless Kurds"
— San Francisco Chronicle

"A fiery, soul-nourishing novel."
— Los Angeles Review of Books

"A blisteringly powerful tale of standing up to oppression."
— The Independent

"Homa unfurls the history of an oppressed people fighting for their right to live, love, thrive, and create."
— Chicago Review of Books