Basketball (and Other Things): A Collection of Questions Asked, Answered, Illustrated (Paperback)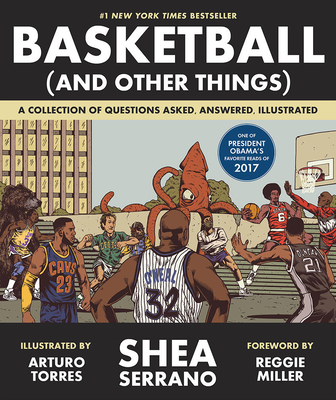 Description
---
#1 New York Times bestseller

Who is the greatest dunker of all time? Which version of the Michael Jordan was the best Michael Jordan? What is allowed and absolutely not allowed in a game of pickup basketball? Basketball (and Other Things) presents readers with a whole new set of pivotal and ridiculous fan disputes from basketball history, providing arguments and answers, explained with the wit and wisdom that is unique to Shea Serrano. Serrano breaks down debates that NBA fans didn't even know they needed, from the classic (How many years during his career was Kobe Bryant actually the best player in the league?) to the fantastical (If you could assign different values to different shots throughout basketball history, what would they be and why?). With incredible art from Arturo Torres, this book is a must-have for anyone who has ever stayed up late into the night debating basketball's greatest moments, what-ifs, stories, and legends, or for those who are discovering the mythology of basketball for the first time.
About the Author
---
Shea Serrano is an award-winning writer, author, and illustrator. His recent book, The Rap Year Book, reached the bestseller lists of the New York Times and Washington Post, topped the iBooks arts and entertainment bestseller list, and was named one of Billboard's Best 100 Music Books of All Time. Serrano is a staff writer for The Ringer. He lives in Houston, Texas.
Praise For…
---
"Shea Serrano's new book… is a hilarious, informative group of passages that answer questions you never realized needed to be asked."
— Slam Magazine
"Shea Serrano's Basketball (And Other Things) is equal parts hilarious and enlightening... this is the ultimate book on basketball fandom."
— NPR
"Cleverly written and beautifully illustrated… It's a must for any basketball fan."
— Esquire
"Even if you're a basketball novice or die-hard Spurs fan like Shea, this is a perfect companion to his Rap Year Book: full of myths, what-ifs, and hyperspecific fanaticism."
— Vulture
"The book is Serrano's testament to the great joys of basketball fandom…"
— The FADER
"It's full of hilarious hypotheticals, fun footnotes, and magnificent illustrations…"
— Buzzfeed
"...hilarious and insightful..."
— Men's Journal
"
With colorful, comic-book depictions of Spurs great Tim Duncan and other NBA stars by artist Arturo Torres, Serrano drops some serious and seriously funny knowledge on a sprawling range of hoops debates."
— San Antonio Express-News
"The sports-obsessed teen will definitely love this (even if they don't read any other books)."
— Travel + Leisure
"…weird and very fun…"
— The Indianapolis Star
"An original work that captures the spirit of basketball."
— Library Journal
"All of the musings—the book spans 240 pages and is comprised of 33 chapters—is playfully illustrated by Arturo Torres and serves as a reminder that although basketball fans may get all riled debating GOAT status and greatest teams, the NBA, at its core, is just plain fun."
— Hoop Magazine
"The questions Serrano asks and answers (and that Arturo Torres illustrates in engaging graphic-novel style) includes many barstool argument-starters ("Who's the Greatest Dunker in NBA History?," "What Year Was Michael Jordan the Best Version of Michael Jordan?") as well as some nerdily conceptual ones."
— Jim Higgins
"Amazing artwork by Torres adds Jack Kirby-esque crackle to the book..."
— The San Antonio Current
"Serrano deftly unravels the history of basketball via ridiculous debates, quirky answers and unexpected wisdom."
— Ozy
"The game's impact and influence on everything from fashion to young POC kids' work ethic is undeniable and some, like Shea Serrano, have always been attuned to that."
— Remezcla
"…this coffee-table-book-that-you'll-actually-read is a perfect gift for anyone who's up for debating which qualities make a great basketball villain—or which NBA player they'd want as an ally if The Purgehappened in real life."
— Mental Floss