The Chinese Emperor's New Clothes (Hardcover)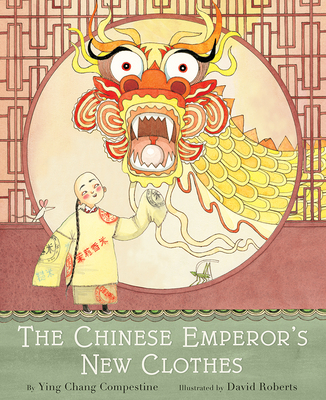 Description
---
Ming Da is only nine years old when he becomes the emperor of China, and his three advisors take advantage of him by stealing his stores of rice, gold, and precious stones. But Ming Da has a plan. With the help of his tailors, he comes up with a clever idea to outsmart his devious advisors: He asks his tailors to make "magical" new clothes for him. Anyone who is honest, the young emperor explains, will see the clothes' true splendor, but anyone who is dishonest will see only burlap sacks. The emperor dons a burlap sack, and the ministers can't help but fall for his cunning trick.

About the Author
---
Award-winning author Ying Chang Compestine is a sought-after speaker who has lectured at schools and universities around the world. Her books include the picture book The Chinese Emperor's New Clothes and the middle-grade Secrets of the Terra-Cotta Soldier. She is passionate about showcasing Chinese history and culture, promoting healthy eating and living, and inspiring young writers. She lives in Lafayette, California.

David Roberts has illustrated many children's books, including bestsellers Ada Twist, Scientist; Rosie Revere, Engineer; and Iggy Peck, Architect.
Praise For…
---
**STARRED REVIEW**
"The somewhat whimsical illustrations of the distinctive individuals, palace, interiors, and clothes are made in watercolor, pen and ink and highlight Roberts' feel for fashion, design and color."

— Booklist

**STARRED REVIEW**
"Roberts (The Prince and the Porker) has marvelous fun with the details of the Chinese court, rendering the robes, hats, and architectural flourishes of the palace with wit and style. The hero of the original tale was a child, too—but in this version he's the author of the plan and the focus of the action, and the story is the better for it."

— Publishers Weekly

"It describes how this particular telling of Hans Christian Andersen's classic tale emerged from the oppressive, literature-scarce world of the Chinese Cultural Revolution. Roberts' watercolor, pen, and ink illustrations . . . add humor and nuance. . . A clever retell ing buttressed by a fascinating back story and vivid art."
— Kirkus Reviews

"[Roberts] often incorporates Chinese latticework screens to frame the action and uses Chinese textile motifs, headdresses, and hair styles to ground the drawings in the culture. A mouse and a cricket make frequent appearances to delight observant readers and listeners."
— School Library Journal