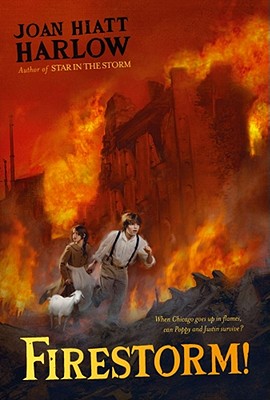 $8.99
Email or call for price
Description
---
Twelve-year-old Poppy is an orphan living in a bad neighborhood in Chicago, pick pocketing so that she has a place to sleep at night. Justin's world couldn't be more different—his father owns a jewelry store—but when he and Poppy meet, they become fast friends, thanks in part to Justin's sweet pet goat. Through their friendship, Poppy realizes that she doesn't want to be a thief anymore and she begins to feel like she may have a place with Justin's family. But when Justin makes an expensive mistake at his father's store, Poppy is immediately blamed. In response, she flees . . . right into the Great Chicago Fire.

Poppy and Justin must rely on their instincts if they are going to survive the catastrophe. Will anything be left when the fire finally burns out?
About the Author
---
Joan Hiatt Harlow is the author of several popular historical novels including Secret of the Night Ponies, Shadows on the Sea, Midnight Rider, Star in the Storm, Joshua's Song, Thunder from the Sea, and Breaker Boy. Ms. Harlow lives in Venice, Florida. For more information, visit her at JoanHiattHarlow.com.