The Case of the Case of Mistaken Identity (Brixton Brothers #1) (Paperback)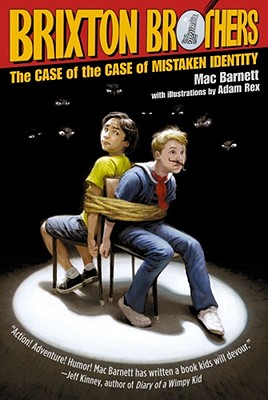 Description
---
National treasures, criminal masterminds, and…secret agent librarians?

Steve Brixton wants to be a crime-busting detective—just like his favorite crime-busting detectives, the Bailey Brothers. Turns out, though, that real life is nothing like the stories.

When Steve borrows the wrong book from the library, he finds himself involved in a treasonous plot that pits him against helicopter-rappelling librarians, has him outwitting a gaggle of police, and sees him standing off against the mysterious Mr. E. And all his Bailey Brothers know-how isn't helping at all!

Worst of all, his social studies report is due Monday, and Ms. Gilfeather will not give him an extension!
About the Author
---
Mac Barnett is the author of the Brixton Brother series and several picture books, including Guess Again! and Chloe and the Lion (both illustrated by Adam Rex), and the New York Times bestseller Extra Yarn. He's on the board of directors of 826LA, a nonprofit writing center, and founded the Echo Park Time Travel Mart, a convenience store for time travelers. Mac lives in Oakland, California.

Adam Rex is the New York Times bestselling author and illustrator of Frankenstein Makes a Sandwich. His other books include The True Meaning of Smekday, which was made into the hit animated movie Home; Moonday; and School's First Day of School, illustrated by Christian Robinson. He also illustrated the Brixton Brothers series, Billy Twitters and His Blue Whale Problem, Chloe and the Lion, and How This Book Was Made, all by Mac Barnett, and Chu's Day, by Neil Gaiman. He lives in Tucson, Arizona. Visit him at AdamRex.com or follow him on Twitter @MrAdamRex.