Reinventing the Factory: Productivity Breakthroughts in Manufacturing Today (Paperback)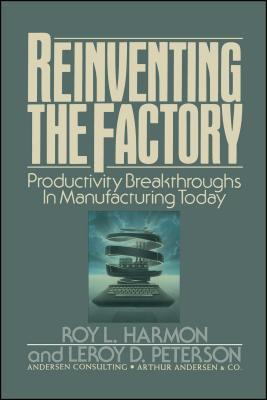 $21.95

Usually Ships in 1-5 Days
Description
---
The "factory of the future" is here. We have the technology and professional knowledge, say leading manufacturing consultants Roy Harmon and Leroy Peterson, to implement revolutionary concepts that many managers might regard as futuristic. In this path-breaking book, Harmon and Peterson move beyond theory to document more than a hundred real-life applications of productivity improvement -- from the focused factory and assembly process design to the plantwide plan -- gathered from Andersen Consulting, Arthur Andersen & Co.'s offices around the world.

The reorganization of existing plants into multiple "factories within a factory" is the single most important feature of productivity improvement, according to Harmon and Peterson. These smaller units known as subplants, are honed to the smallest practical size to ensure the highest level of productivity. Multiple subplants can be clustered to focus accountability and authority for production of product families into easily managed groups of processes. With hundreds of diagrams and using examples of companies that operate focused factories in dozens of countries, Harmon and Peterson detail both the physical and organizational changes required to make the focused factory a successful and profitable feature of a plant's modernization.

In addition to creating subplants and subplant clusters, Harmon and Peterson show how manufacturers can dramatically increase productivity by adopting a plantwide plan. In its most basic form, the plantwide plan is a layout of a single factory. It includes, to the extent practical, not only the ideal layout but also step-by-step strategies for movement of individual processes from their current locations in the factory to final target destinations. Harmon and Peterson explain how managers can use the plantwide plan to eliminate the common problem of compromising ideals too early to accommodate assumed constraints and turn an existing factory into a competitive factory of the future -- today.

Flexibility, creativity, and dynamic planning are key concepts for attaining superior manufacturing results. For plant modernization to be profitable, the organizational structure must keep pace. Achieving world class status is not enough. The new hallmark of excellence must be continuous improvement to maintain a superior position. The plans and suggestions outlined in Reinventing The Factory allow the entrepreneur the responsibility and authority to effect ongoing improvements and render processes adaptable to reflect additions or removals of product lines, changes in sales volume over time and modifications resulting from previous or concurrent improvements. Harmon and Peterson provide the valuable tools and methods necessary to attain such goals. They highlight the dynamic nature of progress itself and show how managers can overcome the most tenacious habit: the resistance to change.
About the Author
---
Roy L. Harmon is an independent consultant working exclusively with Andersen Consulting's worldwide manufacturing program. His experience of twenty-five years has included projects in North and South America, East and West Europe, Africa, and Asia. particularly Japan.