Crowned and Dangerous (Royal Spyness Mysteries) (Large Print / Hardcover)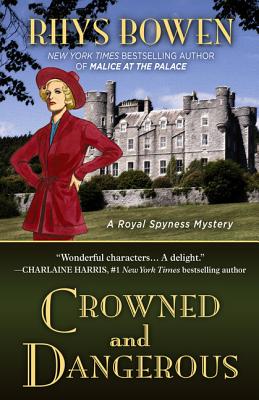 for information about purchasing this book, please contact orders@bookpassage.com
Description
---
Nothing is simple when you re thirty-fifth in line for the British crown, least of all marriage. But with love on their side, and plans to elope, Lady Georgiana Rannoch and her beau Darcy O Mara hope to bypass a few royal rules...
With Darcy driving me out of London in a borrowed motor car, I soon discover that he isn t planning to introduce me to the pleasures of sinning in secret as I had hoped but to make me his wife
Of course, there are some quibbles to be dealt with, such as my needing special permission from the King to marry a Roman Catholic and the question of where we might live after the honeymoon. Though he will inherit a title, Darcy is as broke as I am. Even his family's Irish castle has been sold to a rich American who now employes Darcy's father as a hired hand.
Throwing these cares to the wind, nothing could deter us from our mission except perhaps the news that my future father-in-law has just been arrested. It seems the rich American was murdered and Darcy's father had more than enough motive to do the deed. With the elopement postponed, we head for Ireland where he insists he's innocent, and it's up to us to prove it for better or worse.
About the Author
---
Rhys Bowen, a New York Times bestselling author, has been nominated for every major award in mystery writing, including the Edgar(r), and has won many, including both the Agatha and Anthony awards. She is also the author of the Molly Murphy Mysteries, set in turn-of-the-century New York, and the Constable Evans Mysteries, set in Wales. She was born in England and now divides her time between Northern California and Arizona.