Birthday (Modern Plays #10) (Paperback)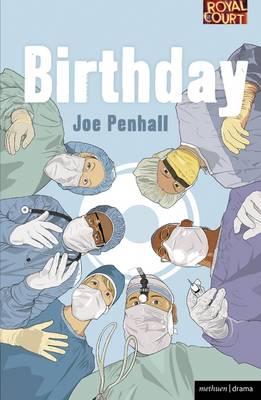 for information about purchasing this book, please contact orders@bookpassage.com
Description
---
The birth of their daughter should be one of the happiest days of Ed and Lisa's life. An NHS maternity ward and their somewhat unusual circumstances make for an unsettling and satisfyingly comic sequence of events that tests their relationship to the core, and raises intrinsic questions about the nature of birth and renewal, fear and isolation.

Subverting the received gender roles to darkly comic and disturbing effect, the play charts Ed and Lisa's personally fraught experience at the behest of an NHS labour ward. Penhall expertly weaves an acutely funny and emotionally charged sequence of events: he pitches wryly observed gender perceptions of a quite literal life and death situation against an indictment of the NHS system. The beautifully observed writing is at once vicious and searingly tender.

Birthday achieves an intensely comic counterpoint to teh visceral domestic drama sutured to bigger issues of aspiration, sacrifice, who we are, how we communicate, the triumph of tolerance, nature and ultimately love.
About the Author
---
Joe Penhall's latest play Haunted Child opened at the Royal Court in December 2011. Previous plays include his debut Some Voices, which won him the John Whiting Award and which he later adapted for film, premiering at Cannes in 2000, and Dumb Show in 2004. His other credits include Blue/Orange at the National Theatre, which transferred to the West End and for which he received Olivier, Evening Standard and Critics' Circle Awards and Landscape with Weapon at the National Theatre. For film, he most recently adapted The Road by Cormac McCarthy. He also wrote the screenplay for Enduring Love and wrote the BBC2 detective series Moses Jones.