Global Negotiation: The New Rules (Hardcover)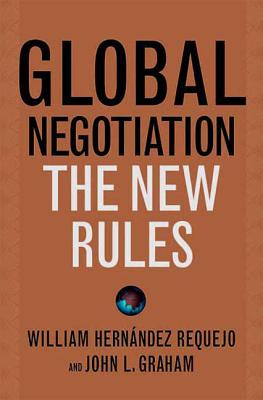 Description
---
Each year American executives make nearly eight million trips overseas for international business. In the process, they leave billions of dollars on the negotiation table. Global Negotiation provides critical tools to help businesspeople save money (and face) when negotiating across cultural divides. Drawing on their more than 50 combined years of experience, as well as extensive field research with over 2000 business people in 21 different cultures, John L. Graham and William Hernández Requejo have discovered how to create long-lasting commercial relationships around the world. The authors provide a rare combination of practical insight and illuminating anecdotes, and offer examples from well-known companies such as Toyota, Ford, Intel, AT&T, Rockwell, Boeing, and Wal-Mart.
About the Author
---
William Hernández Requejo is a university professor and president of Requejo Consulting, Inc., an international management consulting firm. He lives in Irvine and spends a significant amount of time in Santander, Spain.

John L. Graham is a consultant and Professor of International Business at The Paul Merage School of Business, University of California, Irvine.
Praise For…
---
"For many American businessmen, learning and understanding the principles of successful international negotiations is a daunting and seemingly impossible challenge. This book is helpful in providing useful insights and guidelines. It will become an important resource tool for not only beginners but also experienced veterans in dealing with the cultural and strategic nuances in cross-border negotiations. It is a must read." —Dean Yoost, retired Senior Partner at PricewaterhouseCoopers

"In an ever shrinking and fiercely competitive world, this book provides the reader with up-to-date rules of engagement for successful negotiations." —Manuel Junco, Sr. Vice President, Downstream Business Line for Fluor Daniel

"In today's business world, cultural misunderstandings can be deal killers. "Global Negotiations: The New Rules" gives executives the tools they need to navigate difficult waters. John Graham and William Hernández Requejo have filled this volume with crisp, actionable advice that will lead to creative business partnerships and build success in international markets." —Bill Amelio, CEO, Lenovo Computers

"My work is hands-on. We negotiate multinational transactions all the time. In doing so, John Graham and William Hernández Requejo's book will be instrumental in assisting us to better understand the dynamic nature of global negotiations. It is a necessary book for those that seek to be competitive in the international arena." —José Luís de Mora Gil-Gallardo, Corporate Development, Banco Santander

"Global Negotiation: The New Rules, is a great guide to driving thoughtful, productive negotiations across borders." —Michael Delman, Corporate Vice President, Microsoft Corporation