Surviving Paradise: One Year on a Disappearing Island (Hardcover)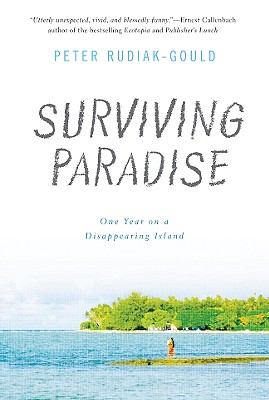 $21.95
Email or call for price
Description
---
Just one month after his 21st birthday, Peter Rudiak-Gould moved to Ujae, a remote atoll in the Marshall Islands located 70 miles from the nearest telephone, car, store, or tourist, and 2,000 miles from the closest continent. He spent the next year there, living among its 450 inhabitants and teaching English to its schoolchildren.
At first blush, Surviving Paradise is a thoughtful and laugh-out-loud hilarious documentation of Rudiak-Gould's efforts to cope with daily life on Ujae as his idealistic expectations of a tropical paradise confront harsh reality. But Rudiak-Gould goes beyond the personal, interweaving his own story with fascinating political, linguistic, and ecological digressions about the Marshall Islands. Most poignant are his observations of the noticeable effect of global warming on these tiny, low-lying islands and the threat rising water levels pose to their already precarious existence.
An Eat, Pray, Love as written by Paul Theroux, Surviving Paradise is a disarmingly lighthearted narrative with a substantive emotional undercurrent.
About the Author
---
Peter Rudiak-Gould is currently pursuing a doctorate in anthropology at Oxford, focusing on Marshallese understandings of global warming and sea level rise. In the summer of 2007, he interviewed the President of the Marshall Islands regarding the effects of climate change. Proficient in Marshallese, the native language of the Marshall Islands, he is the author of the language textbook used by the WorldTeach volunteer organization as its official language manual for the Marshall Islands program.
Praise For…
---
"[A]n extraordinarily engaging diary-portrait of a 21st-century castaway uncovering the everyday riches, enduring frustrations, and confounding contradictions of life in a South Pacific paradise." --Dan George in National Geographic Traveler
"[U]tterly unexpected, vivid, [and] blessedly funny."—
Ernest Callenbach, author of bestseller Ecotopia and Publisher's Lunch
"In Surviving Paradise, Peter Rudiak-Gould has pulled off the improbable: turning a year spent on a remote Pacific island the size of a shopping mall into a memorable, moving narrative."—Tony Cohan, author of On Mexican Time and Mexican Days
"In Surviving Paradise, Peter Rudiak-Gould transcends and defies every travel-memoir cliché (i.e. 'I went there to save them, but it was they who saved me'), reinventing the notion of what travel writing can accomplish. Without ever resorting to an expected thought, he turns his anthropologist's eye to his year on Ujae with humor, sensitivity, intelligence, warmth, and wit. In transporting us to this tiny island, he ultimately casts a surprising light on human nature and the ways we inhabit and perceive the world around us. From his rollicking adventures in spear fishing to his efforts to master the Marshallese language, Rudiak-Gold has written a dynamic narrative of personal and global transformation that's a joy from departure to arrival."—Liza Monroy, author of Mexican High
"With an eye for humor that is fresh and surprising, Peter Rudiak-Gould lays out the delightful ironies—and the vexing conundrums—of life in a traditional culture on the brink of change.  His voice has that rare quality of a starry-eyed romantic who has gained wisdom and perspective by immersing himself in the unfamiliar.  His tales from the edge of the world are at times deeply moving, quite often stunningly insightful, and consistently hilarious.  I found myself grinning by page two." —Sarah Erdman, author of Nine Hills to Nambonkaha: Two Years in the Heart of an African Village
"There's magic at work here. Not until late in the book—well after he has seduced you with his humor, poetic prose, and elegant observations about life on a drowning tropical island—do you realize that the window Rudiak-Gould has been holding open and allowing you to peek through is not actually a window, but a brilliantly-disguised mirror."—Brad Newsham, author of Take Me With You: A Round-the-World Journey to Invite a Stranger Home
"At once a travel narrative, a personal memoir, and an anthropological excursion, Surviving Paradise is also an utterly charming, often very funny account of a young man's surreal immersion in a relatively traditional Pacific culture. I recommend it heartily!"—Lawrence Millman, author of Last Places
"In this surprising and funny memoir, Peter Rudiak-Gould falls in love with his fantasy of the tiny Micronesian paradise where he is assigned to teach English, then runs headlong into the realities of isolation, cultural difference, and global warming. Surviving Paradise is a gentle, witty reminder that we live on an entirely unpredictable planet."—Dinty W. Moore, author of Between Panic and Desire
"Fresh out of college, Peter Rudiak-Gould went looking for the biggest adventure in the most faraway place he could imagine. His boyish enchantment with mystery itself matured into a thoughtful appreciation of the people he came to know on a primitive island. The resulting memoir is sensitive, funny and true." —Sharon Dirlam, author of Beyond Siberia: Two Years in a Forgotten Place