Accounting for Non-Accountants: The Fast and Easy Way to Learn the Basics (Quick Start Your Business) (Paperback)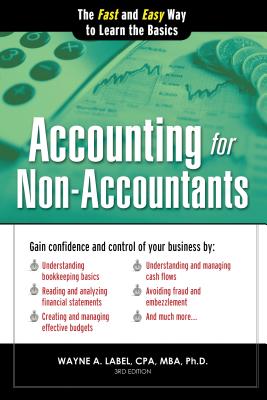 $17.99

Usually Ships in 1-5 Days
Description
---
A Quick, Compact, and Easy-to-Understand Resource for Non-Accountants! The perfect financial accounting guide for beginners!
Accounting for Non-Accountants is the must-have guide for all of us who have never taken an accounting class, are mystified by accounting jargon, and have no clue about balance sheets, income statements, payroll management, corporate taxes, or statements of cash flows. This simple to use accounting book is bookmaking made simple.
Whether you own a business, plan on starting one, or just want to control your own assets, you'll find everything you need to know:
How to prepare and use financial statements
How to control cash flows
How to manage budgets
How to use accounting ratios
How to deal with audits and auditors interpret financial statements
Let this book help you like it helped these readers:
"Dr. Labels explanations are simple and straightforward. "
"This will help me a lot as I set up my own business. "
"I have worked in accounting for over twenty-five years, and this is the best book I have seen to help people with the basics of accounting."
For entrepreneurs or anyone who needs to brush up on accounting fast, this book will have you up and running in no time.
About the Author
---
Dr. Wayne A. Label, CPA, MBA, PhD, is a Certified Public Accountant in the state of Texas. He has taught at several universities in the United States and abroad, and has published three books on accounting and over 30 articles in professional journals.
Praise For…
---
"The 12 short, readable chapters offer a plethora of easy-to-understand examples along with "Quick Tips,"Alerts," and a glossary, which enhance the book's usefulness to the reader" — Choice