Daughter's Keeper (Paperback)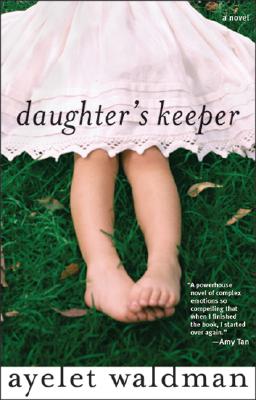 Description
---
How much would you sacrifice to save someone you love?
When Olivia, wild-haired and headstrong, makes a terrible mistake, she must turn to the person least likely to help--her mother, Elaine. Motherhood was a role that Elaine never embraced and her best never amounted to much. But now Olivia faces prosecution for a na ve connection to a drug deal and she needs Elaine more than ever. As the days count down and Olivia's future hangs in the balance, Elaine must decide just how much she is willing to give for a second chance with her daughter.
With Daughter's Keeper, Ayelet Waldman has crafted a redemptive journey at once highly emotional and unbearably suspenseful, as Olivia and Elaine's struggle builds to a beautiful, heart-wrenching climax. In this luminous, gripping novel, Waldman brings to life the tensions and the tenderness that forge the unshakeable bond between parent and child. Daughter's Keeper reveals the unlimited boundaries of forgiveness and the sacrifices we make for love.
A powerhouse novel of complex emotions so compelling that when I finished the book, I started over again.--Amy Tan In
Daughter's Keeper
, Ayelet Waldman shows that the power of love, even when prickling with thorns, can ultimately provide what the criminal system cannot: a hard-fought, hard-won second chance.--Glen David Gold, author of
Carter Beats the Devil
Waldman's passion and affection for her characters shine through.--
Publishers Weekly

Waldman has written
Daughter's Keeper
with enough intelligence, tenderness and craft to shape outrage into a story that is both moving and enthralling. --Dave Eggers, author of
A Heartbreaking Work of Staggering Genius
and
You Shall Know Our Velocity
Ayelet Waldman has brought the war on drugs home, and has shown us just how close to home it can come....She looks past headlines and into the heart. What she finds there is hope for us all. --Dorothy Allison, author of
Bastard Out of Carolina

About the Author
---
Ayelet Waldman is the author of the Mommy-Track Mysteries series, and is an adjunct professor at the Boalt Hall School of Law at UC Berkeley. She lives in Berkeley, California, with her husband, Michael Chabon, and their four children.