Sixty Million Frenchmen Can't Be Wrong: Why We Love France but Not the French (Paperback)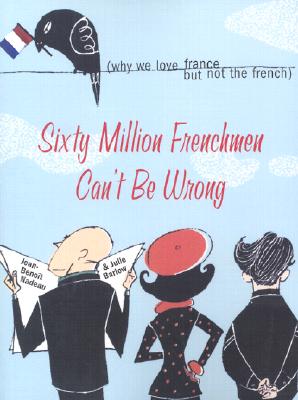 $21.99

Usually Ships in 1-5 Days
Description
---
A historical and cultural guide revealing the French approach to land, food, privacy, language, and more and how globalization led France to become one of the unlikeliest influential countries in the world.
The French drink, smoke and eat more fat than anyone in the world, yet they live longer and have fewer heart problems than Americans. They work 35-hour weeks and take seven weeks' paid vacation each year, yet they are the world's fourth-biggest economic power. So how do they do it?
From a distance, modern France looks like a riddle. It is both rigidly authoritarian, yet incredibly inventive; traditional (even archaic) yet modern; lacking clout on the international stage yet still hugely influential. Sixty Million Frenchmen Can't Be Wrong is so much more than a mere French history or culture book; it reveals their unique ideas about land, food, privacy and language and weaves together the threads of French society, uncovering the essence of life in France and giving, for the first time, a complete picture of the French.
Keep it for yourself or buy one as a gift for a Francophile or France lover!
Praise for Sixty Million Frenchmen Can't Be Wrong:
"[A] readable and insightful piece of work."—Montreal Mirror
"In an era of irrational reactions to all things French, here is an eminently rational answer to the question, 'Why are the French like that?'"—Library Journal
"A must-read."—Edmonton Journal
About the Author
---
Born in Sherbrooke, Quebec, in 1964, Jean-Benoit Nadeau holds a bachelor's degree in political science and history from McGill University. A journalist since 1987, he has written for L'actualite, Saturday Night Magazine, National Post Business, and Quebec Science. The holder of seventeen journalism awards, he was granted a two-year fellowship in 1998 by the New Hampshire-based Institute for Current World Affairs to study why the French resist globalization. In 2001, he published a humorous travelogue, Les francais aussi ont un accent (Payon, Paris). He has also traveled in Mexico, the UK, New Zealand, and Algeria.
Born in Ancaster, Ontario, in 1968, Julie Barlow holds an honour's degree in political science from McGill University and a master's in English Literature from Concordia University. Over the last decade, she has written for Saturday NIght Magazine, Report on Business Magazine, L'actualite, and other Canadian magazines. In 1998, she worked as Editor-in-Chief of English-language projects at Montreal-based publisher Ma Carriere. In 2003, she published Same Words, Different Language (Piatkus, London) with international gender expert Barbara Annis. She has traveled extensively throughout Europe, North Africa, Israel, Turkey, the Caucasus, Mexico, the UK, and New Zealand.