The High 5 Habit: Take Control of Your Life with One Simple Habit (Paperback)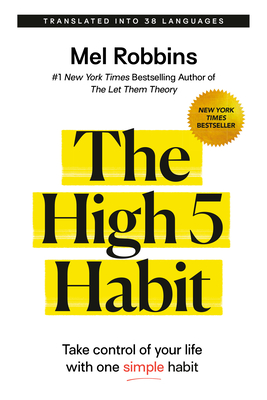 $16.99

Usually Ships in 1-5 Days
Description
---
The New York Times bestseller now in paperback!

In her global phenomenon The 5 Second Rule, Mel Robbins taught millions of people around the world the five second secret to motivation. And in her latest bestseller, she shares another simple, proven tool you can use to take control of your life: The High 5 Habit.

This isn't a book about high fiving everyone else in your life. You're already doing that. Cheering for your favorite teams. Celebrating your friends. Supporting the people you love as they go after what they want. But imagine giving that same love and encouragement to yourself. Or even better, making it a daily habit.

In this book, you will learn more than a dozen powerful ways to high five the most important person in your life, the one who is staring back at you in the mirror: YOURSELF.

Using her signature science-backed wisdom, deeply personal stories, and the real-life results that the High 5 Habit continues to create in people's lives around the world, Mel teaches you how to make believing in yourself a habit you practice every day.

The High 5 Habit is a holistic approach to life that changes your attitude, your mindset, and your behavior. So be prepared to laugh, learn, and launch yourself into a more confident, happy, and fulfilling life.
About the Author
---
Mel Robbins is one of the most trusted voices in confidence and motivation and an international best-selling author. Her work includes the bestselling books The High 5 Habit and The 5 Second Rule, six #1 audiobooks on Audible, the renowned The Mel Robbins Podcast, as well as signature online courses that have changed the lives of almost a million students worldwide.

Her groundbreaking work on behavior change has been translated into 36 languages and is used by healthcare professionals, veterans' organizations, and the world's leading brands to inspire people to be more confident, effective, and fulfilled.

As one of the most widely booked and followed public speakers in the world, Mel coaches more than 60 million people online every month and videos featuring her work have more than a billion views online, including her TEDx talk, which is one of the most popular of all time.

There's nothing Mel loves more than making a real difference in people's lives by teaching them to believe in themselves and inspiring them to take the actions that will change their lives. Mel lives in New England with her husband of 25 years and their three kids, but she is and will always be a Midwesterner at heart.