The Book You Were Born to Write: Everything You Need to (Finally) Get Your Wisdom onto the Page and into the World (Hardcover)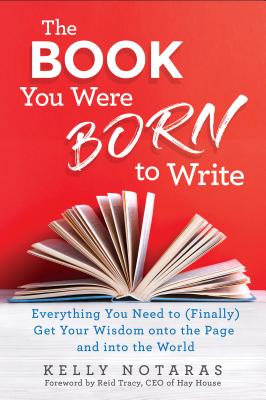 Description
---
A guide to writing a full-length transformational nonfiction book, from an editor with two decades' experience working with authors from all walks of life.

"I know I have a book in me."

"I've always wanted to be an author."

"People always ask me when I'm going to write my book."

"I have a story to tell, but I never seem to make time to write."

These are just a sampling of the messages Kelly Notaras hears every day from would-be authors around the globe. Life coaches with new methodologies for living on purpose . . . energy workers who've discovered new ways to prevent disease and teach self-healing . . . everyday heroes and heroines who have made it through difficult circumstances and want to inspire others to do the same. In today's tumultuous world, we need these voices in the marketplace. Moreover, publishing a book has never been so simple, accessible, or affordable as it is today. So why are so many thought leaders, healers, and change-agents stuck at the starting line?

This book will light the way--offering a simple, step-by-step path that takes authors from concept to finished book. In it, publishing veteran Kelly Notaras demystifies the publishing process and gives writers the tools, insider information, and inspiration to start strong, keep going, and get across the finish line as quickly as possible.
About the Author
---
Kelly Notaras is the founder of kn literary arts, an editorial book studio specializing in self-help, personal growth, and spirituality. Kelly started her career working as an editor for HarperCollins, Penguin USA, and Hyperion Books. Most recently she was the VP and editorial director at Sounds True, a multimedia spirituality publishing company in Boulder, Colorado. Since starting kn literary arts, she has been honored to edit a wide variety of personal-growth books including New York Times bestseller The Tapping Solution by Nick Ortner, Pussy: A Reclamation by Regena Thomashauer, and Jump...and Your Life Will Appear by Nancy Levin.
Praise For…
---
"One of the best ways to help people wake up is by writing a book. In The Book You Were Born to Write, Kelly Notaras has written the exact guide you need to get your message onto the page—so it can start changing lives. From organizing your topic to finding the right coach to writing a rocking proposal, you're getting expert advice from someone who feels like your funny, wise best friend. If you want to become a published transformational author, look no further."
— Gabrielle Bernstein, #1 New York Times best-selling author of The Universe Has Your Back

"If you have a book in your heart to write, you could not have a better guide than Kelly Notaras. Notaras helps you navigate the daunting and strange world of writing and publishing with the deep knowledge of an industry insider, the warmth of a dear friend, and the grace and humor of a gifted writer. If your dream is to become a published writer, then don't walk, run, to the store or your computer to get this book. Notaras gives your dream wings."
— Doug Abrams, founder and president, Idea Architects Agency; former senior editor, HarperCollins Publishers; and co-author of The Book of Joy

"I love this book. It is jam-packed with true insider advice for would-be and already writers that you won't find anywhere else. Happy warning: The Book You Were Born to Write won't just show you how to write the book of your dreams, it will inspire you to get cracking."
— Will Schwalbe, New York Times best-selling author of The End of Your Life Book Club and Books for Living

​"As a publisher of many years, it's very easy to see when aspiring authors have done their research about how the book business works—and when they haven't. Reading this informative and inspiring book will offer an invaluable edge, no matter where you are in the publishing process."
— Robert S. Miller, president and publisher, Flatiron Books/Macmillan USA

"Kelly offers a blueprint of the writing and publishing process that is clear, actionable, and bound to generate results. Her step-by-step guidance befriends and inspires. I have never encountered such a comprehensive, readable, and heartfelt guide to writing and publishing a transformational book."
— Tami Simon, CEO and founder of Sounds True

"Every author or author-to-be has a deep need: that best friend, that cheerleader, that space holder, that wordsmith, that editor, who jumps inside our vision and helps us set our most longed-for book on its feet. Kelly Notaras has written the most approachable, demystifying, and downright accessible book about writing that has ever been written, and, yes, your book will finally get written after you read hers. Case in point: she paved the way for me to write a New York Times bestseller!"
— Regena Thomashauer, New York Times best-selling author of Pussy: A Reclamation

"In these pages, publishing veteran Kelly Notaras leads you through every step of the creation process, from building a rock-solid narrative structure and crafting a strong hook to pushing through writer's block and eventually partnering with a literary agent. The Book You Were Born to Write is the consummate guidebook to getting yourself unstuck and, at last, sharing your masterpiece with the world."
— Michelle Burford, #1 New York Times best-selling collaborative writer

​"Funny, wise, and spilling over with practical advice for bringing your book baby from conception through college, The Book You Were Born to Write is by far the best book I have encountered on the craft of writing and the mystery of publishing. It is also seeded with profound truths about the life of the soul."
— Mirabai Starr, author of God of Love and Caravan of No Despair

"I wouldn't dream of writing a book without Kelly Notaras—and now, quite fortunately, you don't have to either! The Book You Were Born to Write is a comprehensive and easy-to-follow guide for all things book-writing, publishing, and platform building so you can confidently and skillfully share your message with the world. If you've got a book brewing within you, let Kelly demystify the process with a proven plan of action for creation and success."
— Nancy Levin, author of The New Relationship Blueprint

"The two best ways to change the world are to have a child and write a book. I can't help you with the former, but if you want to do the latter, you should start by reading master editor Kelly Notaras's amazing work, The Book You Were Born to Write. It's the ultimate resource for everyone who wants to share their wisdom with the world in a profound and lasting way."
— Scott Hoffman, founding partner, Folio Literary Management, LLC, and agent for multiple #1 New York Times best-selling authors

"Every writer walks into a labyrinth between the first and the last sentence, and most of us get dead lost. The Book You Were Born to Write was my red thread. I had a sweaty grip on each of these chapters as I made my way through the maze of what I had to say in the book that I was born to write. The gratitude I have is ineffable. This is the book that Kelly Notaras was born to write. And every writer will cling to it like a sacred scripture."
— Meggan Watterson, author of Reveal

"As an acquiring book editor, there's nothing I want more than to fall in love with a great manuscript or proposal. But not all aspiring authors have the information they need to set themselves up for that kind of success. The Book You Were Born to Write walks would be writers through each stage of the book-creation process with expert advice and step-by-step instruction. Read this book and editors everywhere will rejoice!"
— Jennifer Hershey, SVP Editor-in-chief, Ballantine Bantam Dell