Schools of Fish! (Hardcover)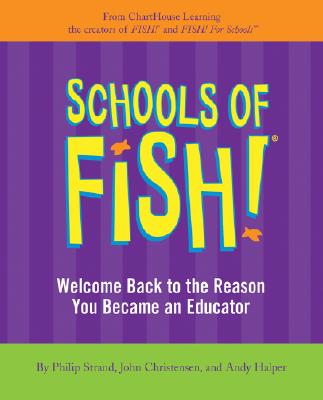 $24.95
Email or call for price
Description
---
It's two minutes to 8:00. Time to put on your tights and cape. As an educator, every time that bell rings, you face dozens of challenges. Students with overwhelming personal and academic needs. Creativity-stifling mandates. Administrivia. Cynicism. Apathy. The things that keep you from being the educator you want to be. The FISH! Philosophy--four simple principles: Be There, Play, Make Their Day, and Choose Your Attitude--has helped educators around the world build more effective, fulfilling relationships that lead to better learning. It is also backed by tons (OK, about a hundred pounds) of research on classroom management. Schools of FISH! is full of inspiring and instructive stories about people just like you--with hopes and challenges just like yours. It's about real-life heroes who give the best in themselves to help their students find the best in themselves.

Schools of FISH! offers practical ideas on classroom management. It addresses the issues you deal with every day--improving learning, respect and personal accountability, self-discipline and internal motivation, and finding ways to make learning more fun. Because you're not just teaching students to learn . . . you're inspiring them to want to learn.
About the Author
---
Philip Strand is a senior writer at Charthouse Learning, where he helps create books, learning curriculums, and mischief.

John Christensen is a filmmaker and CEO of Charthouse Learning, the leading producers of corporate learning programs.