The Lost Carnival: A Dick Grayson Graphic Novel (Paperback)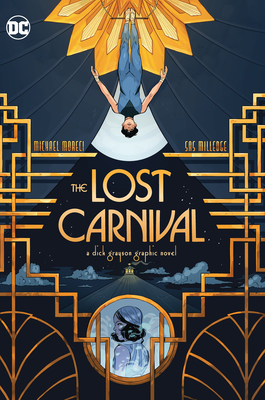 for information about purchasing this book, please contact orders@bookpassage.com
Description
---
Before he met Batman, Dick Grayson discovered the power of young love--and its staggering cost--at the magical Lost Carnival.

Haly's traveling circus no longer has the allure of its glamorous past, but it still has one main attraction: the Flying Graysons, a family of trapeze artists featuring a teenage Dick Grayson. The only problem is that Dick loathes spending his summers performing tired routines for dwindling crowds.
When the Lost Carnival opens nearby and threatens to pull Haly's remaining customers, Dick is among those drawn to its nighttime glow. But there are ancient forces at work at the Lost Carnival, and when Dick meets the mysterious Luciana and her nomadic family, he may be too mesmerized to recognize the danger ahead.

Beneath the carnival's dazzling fireworks, Dick must decide who he is and who he wants to be--choosing between loyalty to his family history and a glittering future with new friends and romance. Writer Michael Moreci and artist Sas Milledge redefine Dick Grayson in The Lost Carnival, a young adult graphic novel exploring the power and magic of young love.
About the Author
---
Michael Moreci is a comics author and novelist. His original comic series include Wasted Space, Curse, Hoax Hunters, The Plot, and Roche Limit, which Paste Magazine dubbed one of the 50 best sci-fi comics of all-time. Moreci has also written canonical comics for Star Wars, Battlestar Galactica, Archie, and Planet of the Apes. His debut novel, Black Star Renegades--a space adventure in the spirit of Star Wars--was released in 2018 and nominated for an Audie Award; it was followed by a sequel, We Are Mayhem.

Sas Milledge is an artist based in Melbourne, Australia. She graduated with a B.Des in Animation from RMIT University in 2016 and has since worked in comics, animation design, and illustration in both Australia and abroad. Alongside her own comics and illustration projects, she has completed work for Boom! Studios, BlinkInk, Sparknotes, 12Field Animation, and the Jim Henson Company.