Embracing the Calm in the Chaos: How to Find Success in Business and Life Through Perseverance, Connection, and Collaboration (Hardcover)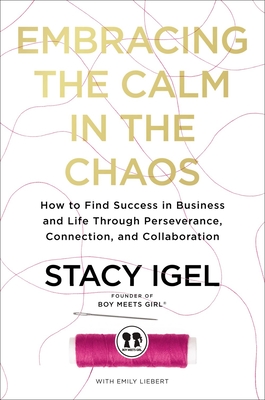 $28.99

Usually Ships in 1-5 Days
Description
---
Run your own business, raise a family, and make a difference--at your own pace.
Stacy Igel, founder of the global fashion line BOY MEETS GIRL(R), walks you through the highs and lows of creating a business: how to establish a brand and attract customers, hire and fire employees, collaborate with business partners, rise up from the midst of discouragement, and not just survive the rollercoaster of entrepreneurship--but thrive.
Stacy shares her twenty-year journey of growing her company from the ground up while powering through life's challenges. Today, with her clothing sold in Saks Fifth Avenue, Bloomingdale's, and other stores worldwide, Stacy has climbed to the top of the ladder--but instead of pausing to look at the view, she's pulling other women up with her.
Embracing the Calm in the Chaos shares a realistic look at how to successfully balance the chaos of being a businessperson, a woman, and a parent. Through Stacy's story and the stories of the women and men who worked alongside her, you will learn how to:
Be authentic and make your voice stand out in the marketplace.
Build lasting success and make a difference--at your own pace, and on your own terms.
Choose business partners and allies that align with your aspirations.
Celebrate each milestone achieved and goal accomplished in your journey.
Make a positive impact in your community and beyond.
A captivating, practical guide for new entrepreneurs, mompreneurs, and established entrepreneurs looking for insights and inspiration.