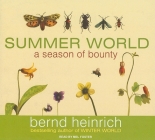 Description
---
As the snow melts and the spring approaches, the animal kingdom awakens. In Summer World, Bernd Heinrich, the bestselling author of Winter World, brings us an up-close and personal view of that awakening and rebirth. Almost all life on the surface of the earth derives its energy from the sun, either directly through photosynthesis or indirectly by consuming plants, making summer the time when nature is most active-feeding, fighting, mating, and nesting. From frogs, wasps, and caterpillars to hummingbirds and woodpeckers, Heinrich explores these animals' adaptations for surviving and procreating during the short window of summer, and he delights in the seemingly infinite feats of animal inventiveness he discovers there. Infused with his inexhaustible enchantment with nature, Summer World encourages a sense of wonder and discovery for the natural world and its busiest season.
About the Author
---
Bernd Heinrich is the author of numerous award-winning books, including "The Geese of Beaver Bog," "Mind of the Raven," and his memoir, "The Snoring Bird."

Mel Foster has narrated over 150 audiobooks and has won several awards. Twice an Audie finalist for "1864: Lincoln at the Gates of History" by Charles Bracelen Flood and "Finding God in Unexpected Places" by Philip Yancey, he won for the latter title.
Praise For…
---
"Audie Award winner Mel Foster's evenly paced, distinctly voiced, and accent-free delivery enhances the ambiance and perfectly conveys Heinrich's wonder at nature's flexibility." ---Library Journal Starred Audio Review