A Dark Matter (Mass Market)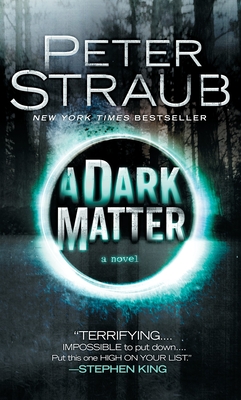 Description
---
An electric, chilling, and unpredictable novel from the master of modern horror.

On a Midwestern campus in the 1960s, a charismatic guru and his young acolytes perform a secret ritual in a local meadow. What happens is a mystery—all that remains is a gruesomely dismembered body and the shattered souls of all who were present. Forty years later, one man seeks to learn about that horrifying night, and to do so he'll have to force those involved to examine the unspeakable events that have haunted them ever since. 
About the Author
---
PETER STRAUB is the New York Times bestselling author of more than a dozen novels. In the Night Room and Lost Boy, Lost Girl are winners of the Bram Stoker Award, as is his collection 5 Stories. Straub is the editor of numerous anthologies, including the two-volume The American Fantastic Tale from the Library of America. He lives in Brooklyn.
Praise For…
---
"Straub's return to all-out horror. . . . [He] does it on his own terms, beautifully blending monsters and demons and indescribable evil into a melancholy novel shaped and crafted as carefully as literature, not pulp entertainment. Straub's writing has rarely been better or more precise." —Miami Herald
 
"An alchemy of psychological suspense, supernatural horror and cultural history. . . . Ambitious in its scope and challenging in its telling. . . . Explosive." —Milwaukee Journal-Sentinel
 
"A modern-day supernatural Rashomon. . . . [A Dark Matter] leaves one satisfied, still eager for the next book by one of the most adroit masters of the supernatural thriller."—San Francisco Chronicle
 
"[A Dark Matter] has it all: shifting perspectives, nested flashbacks, a story that spans four decades, and an attractive, charming cast." —The Onion A.V. Club
 
"Vivid, mysterious. . . . An elegant, multilayered reminiscence. . . . A rich, multi-perspective take on a murky collegiate misadventure in 1966." —TimeOut New York
 
"[Straub] is a master at blurring the supernatural, the real-world-scary and the monsters in your psyche." —Cleveland Plain-Dealer
 
"A powerful, original and utterly engrossing novel about the palpability of evil and its costs. . . . . Nothing less than stunning." —The Globe and Mail
 
"Terrifying. . . . A Dark Matter is populated with vivid, sympathetic characters, and driven by terrors both human and supernatural. It's the kind of book that's impossible to put down once it has been picked up. It kept me reading far into the night. Straub builds otherworldly terror without ever losing touch with his attractive cast of youngsters, who age beautifully. Put this one high on your list." —Stephen King

"Part Rashomon, part The Turn of the Screw. Peter Straub may well be the most important voice in suspense fiction today." —Lincoln Child

"American master Peter Straub takes the sweep of our freaky history over the past forty years, subjects it to all the elegant gifts of madness and arts of haunting of which he is the wicked king, and finds himself in possession of a masterpiece." —Michael Chabon

"I've been reading Peter Straub since I was a teenager, and his work is hardwired into my brain.  A Dark Matter contains echoes of all that has been great about Straub's previous work and builds upon it. This Rashomon-like tale is as spooky and frightening as anything he has written, but it's also an intense and moving celebration of love. Out of the darkness comes, ultimately, a surprising and haunting sense of joy." —Dan Chaon

"Increasingly, Peter Straub brilliantly defies and blurs literary genres. A Dark Matter is a page-turning thriller of every sort: psychological, sociological, epistemological. Plus, it's really scary." —Lorrie Moore

"A devastatingly good novel.  In its investigation of a dark ritual that casts a decades-long shadow, A Dark Matter makes you question all you thought you knew about horror and about literature.  But it goes well beyond that: it messes with your sense of reality and then, just when you're getting your bearings, scrambles it again." —Brian Evenson