One Minute to Midnight: Kennedy, Khrushchev, and Castro on the Brink of Nuclear War (Paperback)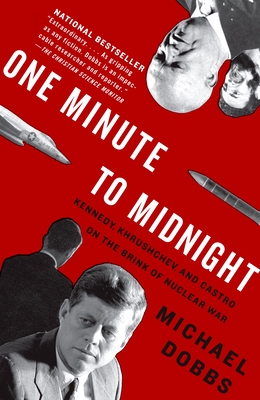 $19.00

Usually Ships in 1-5 Days
Description
---
In October 1962, at the height of the Cold War, the United States and the Soviet Union came to the brink of nuclear conflict over the placement of Soviet missiles in Cuba. In this hour-by-hour chronicle of those tense days, veteran Washington Post reporter Michael Dobbs reveals just how close we came to Armageddon.
Here, for the first time, are gripping accounts of Khrushchev's plan to destroy the U.S. naval base at Guantánamo; the handling of Soviet nuclear warheads on Cuba; and the extraordinary story of a U-2 spy plane that got lost over Russia at the peak of the crisis.
Written like a thriller, One Minute to Midnight is an exhaustively researched account of what Arthur Schlesinger, Jr. called "the most dangerous moment in human history," and the definitive book on the Cuban missile crisis.
About the Author
---
Michael Dobbs was born and educated in Britain, but is now a U.S. citizen. He was a long-time reporter for The Washington Post, covering the collapse of communism as a foreign correspondent. He has taught at leading American universities, including Princeton, the University of Michigan, and Georgetown. He is currently on the staff of the United States Holocaust Memorial Museum. His previous books include the bestselling One Minute to Midnight on the Cuban missile crisis, which was part of an acclaimed Cold War trilogy. He lives outside Washington, D.C.
Praise For…
---
"Extraordinary. . . . As gripping as any fiction. Dobbs is an impeccable researcher and reporter."
—The Christian Science Monitor

"A book with sobering new information about the world's only superpower nuclear confrontation—as well as contemporary relevance . . . Filled with insights that will change the views of experts and help inform a new generation."
—Richard Holbrooke, The New York Times Book Review

"Riveting and highly informative, One Minute to Midnight portrays the intense human drama of mankind on the brink of an unthinkable war."
—The Philadelphia Inquirer

"Gripping. . . . A significant contribution to our understanding of that perilous autumn."
—Bloomberg News

"[Dobbs] succeeds brilliantly, marshaling diverse sources to relate an intensely human story of Americans, Russians and Cubans caught up in what the late historian Arthur M. Schlesinger Jr. termed 'the most dangerous moment in human history' . . . [Filled] with memorable characters in extraordinary circumstances and exotic settings . . . One Minute to Midnight evokes novelists like Alan Furst, John le Carré or Graham Greene."
—James G. Hershberg, The Washington Post Book World

"Dobbs writes it up like a thriller."
—The New York Post

"With new info and angles, this hair-raising analysis traces the trail of mishaps and miscalculations that nearly ended life on earth."
—American History Magazine

"One Minute to Midnight is nothing less than a tour de force, a dramatic, nail-biting page-turner that is also an important work of scholarship. Michael Dobbs combines the skills of an experienced investigative journalist, a talented writer and an intelligent historical analyst. His research is stunning. No other history of the Cuban missile crisis matches this achievement."
—Martin Sherwin, coauthor of American Prometheus

"At a time of danger for a nation it is important for political leaders first to think, then to think more and try avoid shooting. This book gives a day by day perspective on how two world leaders, John Kennedy and Nikita Khrushchev, showed their ability to manage a crisis. Thanks to them, humanity survived and we are able to read this book."
—Sergei Khrushchev

"Is there anything new left to be said about the 1962 missile crisis? As it turns out, there is. This book puts forward the first reports I've seen of Soviet-Cuban plans to wipe out the Guantanamo Naval Base. That an American U-2 strayed over the Soviet Union during the crisis has been known all along, but Dobbs gives us the first full account of what happened. There were so many inadvertent steps and so many miscalculations involved in the crisis that we were lucky to come through it with the world in one piece."
—Wayne Smith, Director of the Cuban Program, Center for International Policy

"Did we need another book on the Cuban Missile Crisis of 1962?  Anyone reading One Minute to Midnight will quickly realize that we did need another—and that this is it. This is unquestionably the most complete and accurate account of the crisis that we have, and will no doubt long remain so. Michael Dobbs has managed to combine the careful and thorough research of a scholar into the ability of an able journalist to bring his findings to life in a dramatic story that illuminates the historical events it examines with lively characterization of the people who made up the cast of the drama. It is first rate great history and a great read!"
—Ambassador Raymond Garthoff, former intelligence analyst and author of Reflections on the Cuban Missile Crisis

"Dobbs's hour-to-hour chronology of those tormenting days when the world stood on the verge of nuclear holocaust is riveting. To enhance his knowledge of these events and installations, he studied the photographs taken during the crisis; Dobbs is the first historian to use these important images."
—Dino Brugioni, author of Eyeball to Eyeball

"Dobbs is a master . . . densely packed, fast-paced, suspenseful."
—Publishers Weekly

"A vivid account of just how close to the brink the world truly came . . . A welcome introduction to that perilous time."
—Kirkus Reviews

"Dobbs presents new and often startling information that again confirms that the 'thirteen days in October' brought the world to the edge of an unprecedented cataclysm."
—Booklist

"First-rate . . . Even those who think they know everything about this event will learn new stories and gain further insight into the thinking of the major participants."
—Library Journal