Powerful Medicines: The Benefits, Risks, and Costs of Prescription Drugs (Paperback)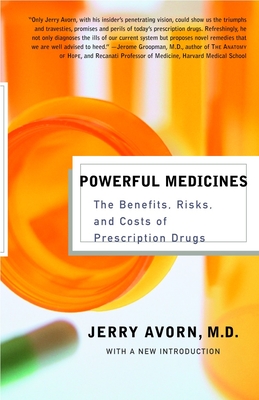 $17.00
Email or call for price
Description
---
If you believe that the latest blockbuster medication is worth a premium price over your generic brand, or that doctors have access to all the information they need about a drug's safety and effectiveness each time they write a prescription, Dr. Jerry Avorn has some sobering news. Drawing on more than twenty-five years of patient care, teaching, and research at Harvard Medical School, he shares his firsthand experience of the wide gap in our knowledge of the effectiveness of one medication as compared to another. In Powerful Medicines, he reminds us that every pill we take represents a delicate compromise between the promise of healing, the risk of side effects, and an increasingly daunting price. The stakes on each front grow higher every year as new drugs with impressive power, worrisome side effects, and troubling costs are introduced.

This is a comprehensive behind-the-scenes look at issues that affect everyone: our shortage of data comparing the worth of similar drugs for the same condition; alarming lapses in the detection of lethal side effects; the underuse of life-saving medications; lavish marketing campaigns that influence what doctors prescribe; and the resulting upward spiral of costs that places vital drugs beyond the reach of many Americans.

In this engagingly written book, Dr. Avorn asks questions that will interest every consumer: How can a product judged safe by the Food and Drug Administration turn out to have unexpectedly lethal side effects? Why has the nation's drug bill been growing at nearly 20 percent per year? How can physicians and patients pick the best medication in its class? How do doctors actually make their prescribing decisions, and why do those decisions sometimes go wrong? Why do so many Americans suffer preventable illnesses and deaths that proper drug use could have averted? How can the nation gain control over its escalating drug budget without resorting to rationing or draconian governmental controls?
Using clinical case histories taken from his own work as a practitioner, researcher, and advocate, Dr. Avorn demonstrates the impressive power of the well-conceived prescription as well as the debacles that can result when medications are misused. He describes an innovative program that employs the pharmaceutical industry's own marketing techniques to reduce use of some of the most overprescribed and overpriced products. Powerful Medicines offers timely and practical advice on how the nation can improve its drug-approval process, and how patients can work with doctors to make sure their prescriptions are safe, effective, and as affordable as possible.
This is a passionate and provocative call for action as well as a compelling work of clear-headed science.
About the Author
---
Jerry Avorn, M.D., is an associate professor of medicine at Harvard Medical School and chief of the Division of Pharmacoepidemiology and Pharmacoeconomics at Brigham and Women's Hospital in Boston. An internist, geriatrician, and drug researcher, he is the author of more than two hundred papers in the medical literature on medication use and its outcomes, and one of the most frequently cited researchers in the fields of social science and medicine.
Praise For…
---
"Passionate and well-informedÉ[Avorn] goes beyond articulating the problems and makes mane creative suggestions about how we can do better." –Annals of Internal Medicine"In Powerful Medicines, Dr. Avorn brilliantly demonstrates the corrosive effects of commercial influence over medical research, education, and clinical care. This impressive book demonstrates the adverse effects such privatization can have on the health care system and ultimately on patients."–Bernard Lown, M.D., Winner of the Nobel Peace Prize Professor Emeritus, Harvard School of Public Health"Marked by solid scholarship, measured criticism, and pithy comments: an informative and highly readable study that makes a significant contribution to the ongoing discussion of an important health care issue." –Kirkus Reviews"This is an authoritative, stunningly comprehensive, and beautifully written work about a subject that ought to interest every American. At last: a smart Harvard doctor who knows drugs, understands FDA and regulatory policy, and has a sense of humor. Unbelievable!"–Donald Kennedy, Ph.D., Editor-in-chief, Science;President emeritus, Stanford University; Former Commissioner of the FDA"Deepens a reader's understanding of the complex cost-benefit analysis involved with prescription drugs." --New York Post"Powerful Medicines is a must read for anyone interested in the use, abuse, and economics of prescription drugs. The issues it addresses are central to the ongoing debate about how to reduce the cost and improve the quality of health care in America." –Senator Edward M. Kennedy"Informative and wittyÉ. Makes a compelling case for prescription sanity and shows how constructive change can realistically be achieved."--Publishers Weekly "A book that is at once engrossing and definitive."–Howard Gardner, Hobbs Professor of Education and Cognition Harvard Graduate School of Education