everything you hoped you'd never need to know about colorectal cancer: A doctor's very personal guide to getting through sh*t (Paperback)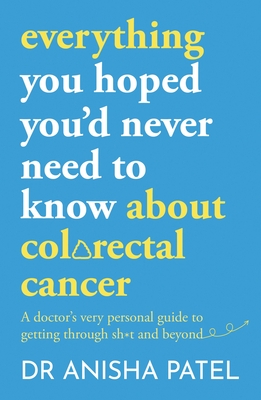 $21.99
Email or call for price
Description
---
Every year in the UK, 43,000 people are newly diagnosed with colorectal cancer, and 268,000 are living with, or after, a diagnosis.
1 in 15 men; 1 in 18 women. If you've picked up this book, there's a strong chance you're one of them; or one of their partners, family or friends.
Dr Anisha Patel, a GP married to a consultant gastroenterologist and bowel surgeon, never dreamed she'd be such a statistic. After all she was healthy, fit, under 40 and a doctor; but the diagnosis of Stage 3 colorectal cancer changed her life in the same way as it has - or will - yours.
everything you hoped you'd never need to know about colorectal cancer is the book Anisha wishes she'd had to hand during and after her diagnosis. She brings her professional and clinical expertise to inform and educate; she brings her own experience of treatment so you can feel heard, seen and supported as you set out on this path.
Anisha starts with her diagnosis - and what yours might feel like - and walks with you through the various treatment pathways, including surgical options and chemotherapy regimens. As well as the clinical options, she details the emotional rollercoaster that is cancer treatment and focuses on the emotional strain of all parts of the journey. There is much emphasis on the days after treatment is finished, when you may need the most support, and space for many different voices in addition to Anisha's own, all sharing their own experience of colorectal cancer.
This book is a compelling and invaluable blend of personal testimony and clinical insight, and will redefine the conversation around colorectal cancer, while holding your hand at every step of the way.
About the Author
---
Dr Anisha Patel was diagnosed with advanced bowel cancer at 39. After two life-saving operations and months of chemotherapy she has now been in remission for three years but suffering many of the after-effects of treatment.

While trying to navigate her 'new normal' mentally and physically, and having returned to work as a GP in Horsham, West Sussex, Dr Patel has become a campaigner and advocate for women's health. As well as campaigning for greater awareness of bowel cancer and its symptoms, she has appeared on ITV's Lorraine to advocate for better understanding of cancer symptoms and the lasting effects, as well as advising on a multitude of women's health issues.