Make Money Online: Your no-nonsense guide to passive income (Paperback)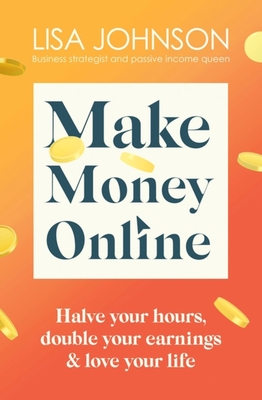 $24.99

Coming Soon - Available for Pre-Order Now
Description
---
Are you time-poor but want to be money-rich?

Business strategist, entrepreneur, #1 podcaster and global speaker Lisa Johnson is here to guide you through the world of passive income. No complicated plans or tech troubles; just a simple step-by-step approach using Lisa's simple system to earning money either as a side hustle or as your main business, without ever trading time for money.

Covering EVERYTHING you need to know from how to think of an initial idea, develop it, grow an engaged audience, get into a productive groove, launch your product, generate sales and maintain a consistent income from your product, Lisa takes you through it all, with lots of guaranteed laughs along the way! This will be a book you turn to time and again for motivation, inspiration and practical business advice.
About the Author
---
Lisa Johnson is a multi-seven-figure Global Business Strategist who makes 90% of her money through passive or semi-passive income streams. In one launch alone during the global pandemic in 2021 she made £2.5m in a week - earning £1m in the first hour of sales with continued success in 2022 when she made £2.2m in another week. Her business made over £10m in the first five years.

After a tough childhood spent in social housing, Lisa went on to have successful careers in law and banking. Her background in overcoming obstacles has helped mould her into a bold, straight-talking coach, who is never afraid to be an authentic and outspoken truth teller. She took herself from £30,000 in debt to a successful entrepreneur making millions and helping thousands of people in just five years.

Lisa has over 50,000 followers across social media and a #1 business podcast, Making Money Online which has been listened to across 119 countries and has over 150,000 downloads to date. She has spoken on BBC's Women's Hour and has been featured in national newspapers and magazines including The Telegraph, Psychologies, The Guardian and Fast Company. A feature on Lisa in Forbes magazine garnered over a quarter of a million views in one week.

Lisa is a huge believer that everyone can become a success no matter their background, is an ambassador for the charity BulliesOut and is known for her anti-bullying campaigning online.

Lisa lives in Bedfordshire, UK with her husband and twin sons but consults around the globe.
Praise For…
---
A lighthearted and simple look at making money online. It's warm and inviting nature makes you feel like you can do this too and after reading each chapter I was itching to action what I'd learnt. Lisa's approach is the perfect antidote to 'bro marketing'.—Holly Matthews - No nonsense self development coach and Founder of The Happy Me Project

Lisa has created an actionable, fluff-free, step-by-step guide to the complex and often-murky world of passive income and making money online.—Elizabeth Goddard - Multi-offer Online Business Strategist

Make Money Online is an in depth, thoughtful and thought provoking book not only on 'making money online' but life in the modern day. Lisa has beautifully used stories and real life examples from her life to support the readers understanding and integration of what is truly required to succeed and feel fulfilled in life. Definitely a book to keep close on your shelf along your success journey.—James Williams - The Growth Edge

Actionable, strategic and so inspirational, you will pull a muscle trying to crush your dreams after you read it—Bushra Azhar - founder of The Persuasion Revolution