Mysteries of the Norman Conquest: Unravelling the Truth of the Battle of Hastings and the Events of 1066 (Hardcover)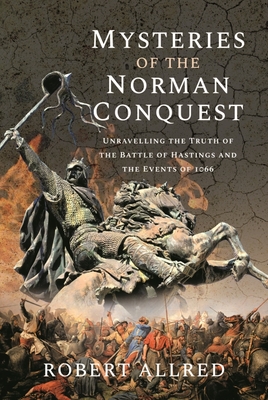 $42.95
Email or call for price
Description
---
Recent challenges to the traditional site of the Battle of Hastings have led to a surge of interest in the events surrounding England's most famous battle. This, in turn, has increased speculation that the titanic struggle for the English crown in 1066 did not take place on the slopes of what is today Battle Abbey, with a number of highly plausible alternative locations being proposed. The time had clearly come to evaluate all these suggestions, and Robert Allred decided to take on that task.

Taking nothing for granted, Robert hiked round the sites of the three battles of 1066 - Fulford, Stamford Bridge and Hastings. Armed with the medieval sources and much of the current literature, he set out to appraise the evidence and to draw his own unbiased conclusions.

Following in the footsteps of the Viking warriors of Harald Hardrada, the knights of William of Normandy and the Anglo-Saxon soldiers of King Harold, the reader is taken on a journey from Yorkshire to the South Coast and down through the ages to reexamine what has been written about that momentous year - the intrigues, preparations and maneuvers - which culminated on 14 October 1066, on a bloody hill somewhere in Sussex.

Whether this will settle the debate over the site of the Battle of Hastings or prompt further investigations remains to be seen, but it will be a book which cannot be ignored and which the reader will be unable to put down.