Defending Heaven: China's Mongol Wars, 1209-1370 (Paperback)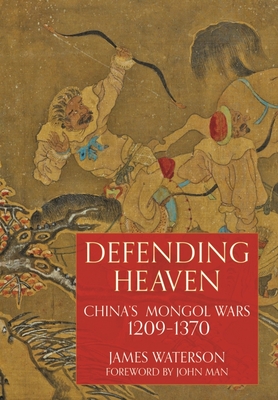 $26.95
Email or call for price
Description
---
Defending Heaven brings together, for the first time in one volume, a complete history of the Jin, Song and Ming dynasties' wars fought against the Mongols. Lasting nearly two centuries, these wars, fought to defend Chinese civilization against a brutal and unrelenting foe, pitted personal heroics against the inexorable Mongol war machine and involved every part of the Chinese state.

The resistance of the Chinese dynasties to the Khans is a complex and rich story of shifting alliances and political scheming, vast armies and navies, bloody battles and an astonishing technological revolution. The great events of Chinas Mongol war are described and analyzed, detailing their immediate and later implications for Chinese history.

In this excellent new book James Waterson tackles this fascinating subject with characteristic verve and skill. Setting the Mongol war in the wider context of Chinas ancient and almost perpetual conflict with the northern nomads, it sheds light on the evolution of China's military society and the management, command and control of the army by the Chinese state.