A History of Science: From Agriculture to Artificial Intelligence (Paperback)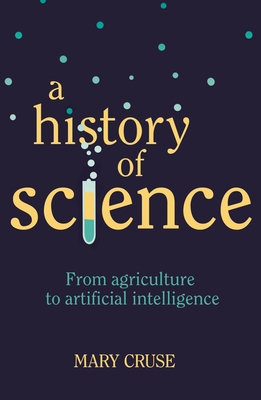 $12.99

Usually Ships in 1-5 Days
Description
---
Every great advance in science has issued from a new audacity of imagination - John Dewey
In
A History of Science
, Mary Cruse takes readers on a fascinating journey through the evolution of this discipline in its many strands. From the Cradle of Civilization to Silicon Valley, this book traces 5,000 years of scientific history, following the small steps, great leaps, wring turns and lucky chances taken by those who came before us. Learn about the personalities and breakthroughs which transformed our world, including Einstein's theory of general relativity, Ada Lovelace's computer programme and Marie Curie's study of radioactivity. Readers can also delve into the cutting-edge science of the 21st century - genetic engineering, artificial intelligence, sustainable energy projects - and explore which breakthroughs are yet to come... Filled with remarkable photographs and text features,
A History of Science
distills this vast discipline into an accessible and entertaining read.
About the Author
---
Mary Cruse is a writer, journalist and science communicator, who began her career working as a publicist for a particle accelerator, Diamond Light Source. Over the course of her career, Mary has edited Inside Diamond magazine, worked as a science columnist for the Oxford Mail, and supported science communications for the UK's synchrotron, the Science and Technology Facilities Council and the Wellcome Trust.