Bedtime Wordsearch: Puzzles to Help You Relax Before You Go to Sleep (Paperback)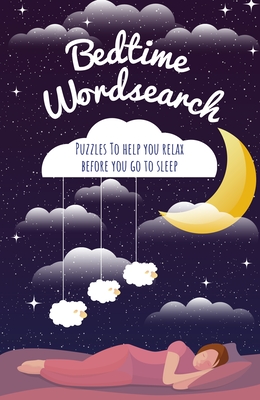 $12.99
Email or call for price
Description
---
A ruffled mind makes a restless pillow. - Charlotte Bronte
Switch off your smart phone and settle down with this relaxing wordsearch collection, filled with delightful quotes, poems and dream interpretations. Puzzles have proven mindfulness benefits which help to reduce stress. By concentrating only on the puzzle, we can forget the troubles and cares of the day, clearing our mind for sleep. In this book you will find small wordsearch puzzles for a quick bedtime activity, as well as full-sized puzzles for when you need longer to unwind. Many of the puzzles are themed in a sleep-related way. Also included are:
- Sleep-related quotes
- Useful facts and tips about sleeping
- Interpretations of common dreams based on the pioneering work of Pamela Ball
- Sleep exercises that can be used to assess and improve your sleep
- A sleep diary to monitor patterns
- A food and drink diary to monitor your diets impact on your sleep Complete these puzzles and relaxing exercises and before you know it you'll be ready for a sound night's sleep.
About the Author
---
Eric Saunders is a prolific writer of non-fiction for children and adults, specializing in puzzle and activity books. He has been compiling puzzles for over 35 years, and his work can be found in books, newspapers and websites around the world. He lives in Wales.