Alfred's Dynasty: How an Anglo-Saxon King and his Family Defeated the Vikings and Created England (Hardcover)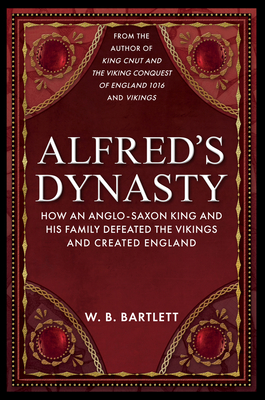 $36.99

Coming Soon - Available for Pre-Order Now
Description
---
A tale of scheming, power struggles, conflict and the birth of England as we know it today. W. B. Bartlett, author of Vikings, tells the story of Alfred the Great and his descendants, and reasserts their right to be regarded as one of history's great Royal dynasties.

In 878, Alfred king of Wessex was on the verge of oblivion. Trapped on a small island in the Somerset Levels, it seemed as if he and his kingdom were about to be destroyed. Yet within months he had defeated the Viking invaders and started to reverse the tide of conquest. While Alfred was driven by the prospect of a land that did not yet exist called England, he did not finally create it. Two of his children, Edward – king of Wessex after him – and his remarkable daughter Æthelflæd, the Lady of the Mercians, expanded his kingdom into Mercia in the Midlands. His grandson Æthelstan confirmed the conquest of the north at one of the great battles of the so-called Dark Ages at Brunanburh. The triumph of Alfred's dynasty was cemented by the short but magnificent reign of Edgar 'the Peaceable', a man who could claim to be not just king of England but emperor of the whole of Britain. The ultimate collapse of Anglo-Saxon England first of all in the face of the campaigns of Cnut of Denmark in 1015/6 ,and later the Norman Conquest of 1066, have unjustly obscured their achievements. This book tells their story and reasserts their right to be regarded as one of the greatest royal dynasties that England or Britain have ever seen.
About the Author
---
W. B. Bartlett has worked across the globe in almost twenty countries and has spent time in over fifty. He is the author of many history books for Amberley including titles on the Titanic, Medieval History and Dam Busters. He lives in Bournemouth.