River Thames Dockland Heritage: Greenwich to Tilbury and Gravesend (Paperback)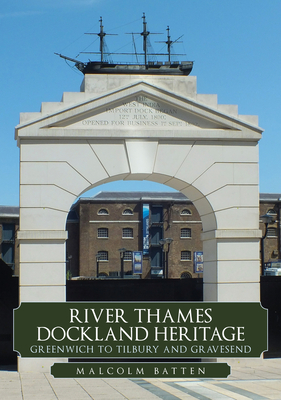 $25.95
Email or call for price
Description
---
London's docks were once the busiest in Britain.

They had developed piecemeal from the beginning of the nineteenth century as the existing riverside wharves became too congested and pilfering became rife. Dock systems were built on both sides of the Thames. The largest group, 'The Royals' comprising the Royal Victoria, Royal Albert and King George V Docks, created the greatest enclosed dock area in the world.

Changes in cargo handling methods such as containerization, led to all new developments being concentrated at Tilbury from the late 1960s, and the closure of the London docks, along with nearly all of the private riverside wharves and canal wharves. The London Docklands Development Corporation was set up to redevelop the dock sites. So what replaced the docks, and what remains to remind us of what was there before?

This book follows the Thames Path, which has opened up much of what was once a largely hidden world, from Greenwich to Rainham and Erith to examine the changes and the heritage that remains on both sides. Also included is the network of rivers, canals and sewers in east London which linked into and made use of the Thames. Finally, it looks at Tilbury on the north bank, where the docks are now concentrated, and Gravesend on the south side, a town with long maritime connections to London.
About the Author
---
Born in 1952, Malcolm Batten has lived in East London all his life, and has always had an interest in the local transport scene and the history of Newham. After a boyhood of trainspotting, he started taking photographs in 1969. Since then he has recorded the local buses and railways, in an area which has seen enormous change.