A Whole Song and Dance (Hardcover)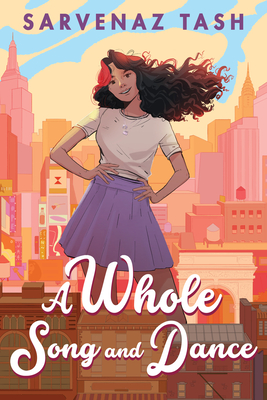 $18.99

Usually Ships in 1-5 Days
Description
---
Sarah Dessen meets Abigail Hing Wen in this heartwarming romantic comedy starring Nasrin Mahdavi, an Iranian-American college freshman who's a triple threat on Broadway—but who's living a double life.

It's her first semester majoring in musical theater at NYU's prestigious Tisch School of the Arts, and Nasrin spends her days prepping for auditions, sweating through dance classes, and belting her heart out for the viral streaming show she's been cast in. But on calls with her maman and baba, she's the golden child who put her theater dreams aside to follow in their entrepreneurial footsteps as a business major.

At least her whole life isn't a lie—she is taking a single business course. Except she's kind of failing it. Nasrin needs to bring her grade up fast if she's going to keep her parents in the dark, so she grudgingly signs up for tutoring with the infuriatingly smug and annoyingly attractive Max. And yet . . . as the semester rushes by, the sparks of anger that first flew between them start to turn into a very different kind of spark. The kind she definitely does not have time for.

Except when Nasrin's charmingly devious cousin takes an interest in Max too, Nasrin has to figure out exactly what has been an act, and what's for real. Can Nasrin decide what—and who—is truly worth fighting for, and find a way to step into the spotlight as her full self?
About the Author
---
Sarvenaz Tash is the author of The Geek's Guide to Unrequited Love (an Amazon Best Book of the Year and YALSA Top Ten Quick Pick for Reluctant YA Readers), Virtually Yours, Three Day Summer, and The Mapmaker and the Ghost. She is the co-author of the adult rom-coms Ghosting: A Love Story and Hollywood Ending (written as Tash Skilton). Sarvenaz was born in Tehran, Iran, and grew up on Long Island, New York. She received her BFA in Film and Television from NYU's Tisch School of the Arts, which means she got to spend most of college running around and making movies (it was a lot of fun). She has dabbled in all sorts of writing including screenwriting, copywriting, and professional tweeting for the likes of Bravo and MTV. Her work has been translated into six languages. Sarvenaz currently lives in Brooklyn, New York, with her husband and two young sons. Visit her online at SarvenazTash.com or on Twitter, Facebook, and Instagram @SarvenazTash.
Praise For…
---
Tash (Virtually Yours) spins an appealing yarn in this rom-com about a college freshman trying to juggle a double life. Iranian American Nasrin Mahdavi, a first-year NYU-Tisch theater student, is living the life she always wanted: rehearsing complex choreography, belting out show tunes, and preparing for Broadway auditions. The only problem is that she told her practical-minded Baba and Maman that she's studying business at NYU-Stern. To keep up the charade, Nasrin enrolls in a statistics course, but when she falls behind on classwork, she signs up for tutoring, and is paired with extremely attractive, prickly white teacher's assistant Max. Nasrin strives to maintain her ruse, but things grow complicated when she begins developing feelings for Max—and realizes that her cousin, who attends Barnard, likes him, too. Even worse is her parents' sudden decision to move from Indiana to N.Y.C. to be closer to her. Tash infuses well-worn tropes with a specificity drawn from her own experiences. Nasrin's palpable passion for theater, and her attempts to keep control of her tenable situation, buoyed by a wry enemies-to-lovers romance, make for a bustling production. Ages 12–up. Agent: Victoria Marini, Irene Goodman Literary. (Apr.)- PW (Feb 16, 2023)

A drama student falls for her statistics tutor while struggling to balance classes and her first paid acting job. Persian college freshman Nasrin Mahdavi lives for musical theater and has been accepted to New York University's prestigious Tisch School of the Arts. She quickly makes friends with fellow drama student Beckett Banerjee, who is gay and Indian American, and lands a role in a web series. The only problem is that her parents think she's in business school. Nasrin reasons that it'll be easier to tell them the truth once she can show them how well she's doing, and she signs up for a statistics course to help maintain the illusion. However, she struggles with it and, without realizing who is behind the statstutornyu email address she finds advertised, hires her class's rude TA to tutor her. But as Nasrin spends more time with handsome White boy Max Fletcher, she realizes there's more to him than meets the eye. Meanwhile, things become increasingly difficult when her parents surprise her by moving to New York from Indiana. Worse, Minu, Nasrin's cousin from Tehran, who's in the States to attend Barnard, starts blackmailing her over her secret. Readers will enjoy following Nasrin's journey as she grows in maturity both as a friend and daughter and learns to be true to herself. The portrayal of drama school as both exciting and challenging is also appealing. Fans of relationship-driven stories will adore this sweet novel. (Fiction. 13-18)- Kirkus (Feb 15, 2023)

When Nasrin gets into NYU, it seems like both her dreams and her parents' dreams for her are coming true. But Nasrin's attending NYU's Tisch School of the Arts as a musical theater major; her parents think she's at the Stern School of Business. Nasrin doesn't intend to embark on a yearlong lie; she enrolls in a stats class at Stern (she's failing it) and plans to tell her parents the truth. But as she starts nailing auditions despite the odds—even landing a paid role on a web series—coming clean seems impossible. When Nasrin's breezily confident (and maybe a little manipulative) cousin arrives from Iran, she wastes no time taking advantage of Nasrin's secret, or of the crush Nasrin definitely does not have on her stats tutor. Nasrin's freshman year flies by at a breakneck pace, so some details feel hastily sketched. But her enthusiasm for her art, her determination, and her discovery of the life she genuinely wants versus the one her parents planned are all infectiously rendered. Plenty to sing about.— Maggie Reagan- Booklist (Apr 1, 2023)