Artemis Fowl (Artemis Fowl, Book 1) (Paperback)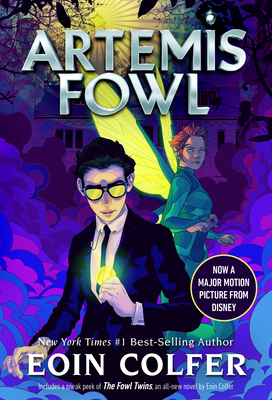 Other Books in Series
This is book number 1 in the Artemis Fowl series.
Description
---
Now an original movie on Disney+, here is the book that started it all, the international bestseller about a teenage criminal mastermind and his siege against dangerous, tech-savvy fairies.

New York Times best-selling author, Eoin Colfer and series, Artemis Fowl!

Twelve-year-old criminal mastermind Artemis Fowl has discovered a world below ground of armed and dangerous--and extremely high-tech--fairies.

He kidnaps one of them, Holly Short, and holds her for ransom in an effort to restore his family's fortune.
But he may have underestimated the fairies' powers. Is he about to trigger a cross-species war?
About the Author
---
Eoin Colfer is the New York Times best-selling author of eight books in the Artemis Fowl series, three spin-offs about Artemis' younger brothers, the Fowl Twins, and well as Iron Man: The Gauntlet, the WARP trilogy, Airman, Half Moon Investigations, The Supernaturalist,Eoin Colfer's Legend of... books, The Wish List,Benny and Omar; and Benny and Babe. He lives in Dublin, Ireland with his wife and two sons.

Praise For…
---
PRAISE FOR ARTEMIS FOWL

"Will grab your interest, no matter what your age."—The New York Post

PRAISE FOR THE ARCTIC INCIDENT

"The world that Colfer creates is as vivid and fantastical as any shire, gotham, or galaxy far, far away in recent memory."—Entertainment Weekly

PRAISE FOR THE ATLANTIS COMPLEX

"Colfer keeps the action moving with laughs and gadgetry. . .A treat for series fans."—Booklist

PRAISE FOR THE ETERNITY CODE

* "Agile prose, rapid-fire dialogue and wise-acre humor ensure that readers will burn the midnight oil to the finish."—Publishers Weekly (starred review)

PRAISE FOR THE LAST GUARDIAN

* "A fitting end to a brilliantly conceived and developed series."—<em>Kirkus </em>(starred review)

PRAISE FOR THE LOST COLONY

"Fast-paced, funny, and wholly enjoyable, the book is an action-packed thrill ride."—VOYA

PRAISE FOR THE OPAL DECEPTION

"This book is magical. . ."—The Washington Post

PRAISE FOR THE TIME PARADOX

"The author once again offers an exhilarating ride through the fantastical world of Artemis Fowl."—School Library Journal