The Hunt for Star-Lord: A Graphix Chapters Book (Marvel's Rocket and Groot) (Paperback)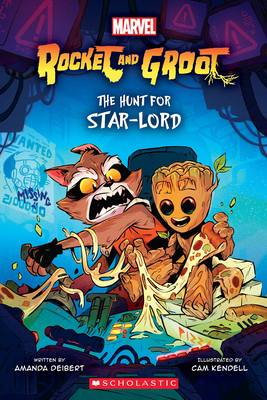 Description
---
Join Marvel's fan-favorites Rocket and Groot in this hilarious, high-octane original graphic novel!
Rocket and Groot are living their best lives touring the galaxy for the very best deep-dish pizza in the universe. Just as Rocket is about to bite down on a gooey slice of pizza with extra trash, an alert pops up on his bounty tracker: Star-Lord has been kidnapped and is being held for ransom!
Rocket and Groot immediately drop their 'za and jump into action. Who would want to capture Peter Quill anyway? Okay... maybe a lot of people. It's probably best to start with someone who actually likes Peter. Gamora! But when Rocket and Groot locate Gamora, she is in the middle of a battle with Thanos. Great! One more enemy to deal with...
Join the Guardians of the Galaxy in this hilarious Graphix Chapters adventure!
About the Author
---
Amanda Deibert is a New York Times bestselling comic book and television writer. Her comic book writing includes DC Super Hero Girls: Weird Science, DC Super Hero Girls: Infinite Frenemies, Teen Titans Go!, Wonder Woman '77, Batman and Harley Quinn, Flash Facts, DC's The Doomed and the Damned, Wonderful Women of History, Sensation Comics Featuring Wonder Woman, and Love is Love (NYT #1 Bestseller) for DC Comics, stories in John Carpenter's Tales for A Halloween Night volumes 2, 3, 4, 5, & 6 for Storm King Comics, and more. She is currently writing for the animated series He-Man and the Masters of the Universe for Netflix. Other TV credits include work for CBS, SyFy, OWN, PIVOT, HULU, and four years as writer for former Vice President Al Gore's international climate broadcast, 24 Hours of Reality.
Cam is the illustrator for Aaron Reynolds's Fart Quest series, creator of such comics as Choose Your Gnome Adventure and Flopnar the Bunbarian, and artist for board games like Dungeons, Dice, & Danger and 5-Minute Mystery. When not drawing gnomes and/or goblins Cam enjoys birding, rocking on the accordion, losing at board games, and hiking in the beautiful Utah mountains with his wife and four children, hoping to see a black bear... from a safe distance.