La pequeña mariposa que sí pudo (The Little Butterfly that Could) (Paperback)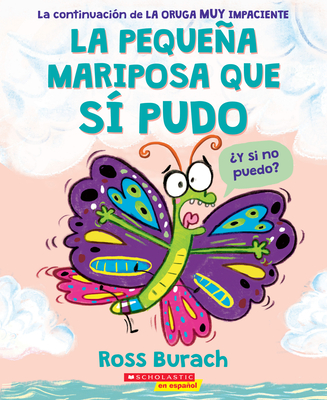 $6.99

Usually Ships in 1-5 Days
Description
---
What if I can't?
¿En qué dirección están las flores?
Por ahí, a 320 kilómetros.
¡¿Cómo voy a llegar tan lejos?!
Vas volando.
¿Puedo ire n avión?
No.
¡Entonces no llegaré nunca!
Esta simpática continuación de La oruga muy impaciente , de Ross Burach, es un cariñoso homenaje al esfuerzo de cada niño de perseverar ante los desafíos a la vez que una alegre lección sobre la migración de las mariposas. Recuerda: si no lo logras al primer intento, ¡vuela, vuela otra vez!
Which way to the flowers?
That way. 200 miles.
How am I supposed to travel that far?!
You fly.
Can I take a plane?
No.
Then I'll never make it!
This comical companion to Ross Burach's The Very Impatient Caterpillar pays loving homage to every child's struggle to persist through challenges while also delivering a lighthearted lesson on butterfly migration. Remember, if at first you don't succeed, fly, fly again!
About the Author
---
Ross Burach is the creator of the riotously funny Very Impatient Caterpillar series that includes The Very Impatient Caterpillar; The Little Butterfly That Could; Goodnight, Butterfly; and Make Way for Butterfly. All the books combine humor with curriculum-friendly science topics and relatable social-emotional themes. Ross's other acclaimed books include the picture book Truck Full of Ducks, the board books I Love My Tutu Too!, Potty All-Star, Hi-Five Farm!, and Hi-Five Animals!, named the best board book of the year by Parents magazine, and the Acorn early reader series Bumble and Bee. Ross lives with his family in Brooklyn, New York. You can visit him online at rossburach.com.
Praise For…
---
Praise for The Little Butterfly That Could:
"Will elicit plenty of giggles, and sly pictorial details will keep a broad range of readers happy during rereads." -- Kirkus Reviews